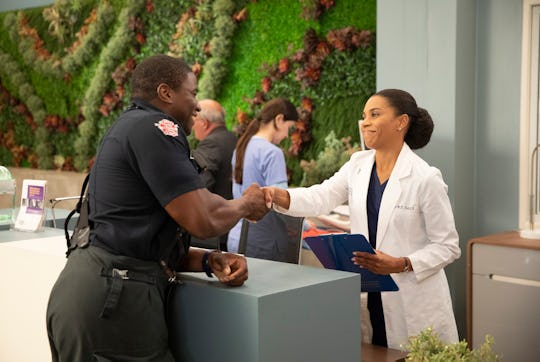 ABC/Rick Rowell
Don't Miss These 'Grey's Anatomy' & 'Station 19' Faves In The Crossover Event
In the next episodes of Grey's Anatomy and Station 19, expect to see all the faces you know and love zipping between shows. That's right — it's crossover time which means for two solid hours, you'll experience all the heart-thumping drama in Grey Sloan Memorial, featuring Seattle's best. Doctors and interns and firefighters, oh my! So who will be on the Grey's Anatomy & Station 19 crossover?
After a Season 15 premiere with two back-to-back episodes — and 7 million loyal viewers — your usual Grey's Anatomy faves (and some surprises) will return each week so long as the show goes on. According to People, How I Met Your Mother's Josh Radnor will appear on Grey's side of things. That's right. In a teaser clip, it's revealed Meredith (Ellen Pompeo) has a hot mystery date. When pressed who it is by Dr. Maggie Pierce (Kelly McCreary), Meredith reveals she's never even met him. More than that, she doesn't know what he looks like. Yep — a total blind date to help Mer get her love life back in order. And while fans speculated from last month's trailer that the mystery man might be Dr. Andrew DeLuca (Giacomo Gianniotti) that was only a dream, probably to derail the thought of someone new. I mean, who's even over the death of McDreamy? "I am," answered no one.
It looks like Radnor is the first of many. Apparently, Dr. Grey will date a lot more this season — especially because transplant surgeon Nick Marsh (Scott Speedman) likely won't return this season. According to TV Guide, showrunner Krista Vernoff weighed in saying, "What we're doing that's different than what we've seen is, she's gotta go on dates. Like in real life, love doesn't always land in your lap with the first date," she said. "And so, we're leaning into that a little bit." And though there's no word on exactly who those dates will be with, it leaves room for more celebrity guest stars throughout the season so start your guessing games now.
Aside from the Radnor stint for at least one episode (hopefully more), Station 19 brings the beloved Grey's character, Ben Warren (Jason George) with a surprise job change from doctor to firefighter. He's still married to Dr. Miranda Bailey (Chandra Wilson) so there may be more of that interaction — whether through work or home life — throughout the season as well. You'll also get to watch firefighter Dean Miller (Okieriete Onaodowan) awkwardly ask Grey Sloan's Maggie Pearce (Kelly McCreary) on a date only to receive an unexpected response: laughter. To make matters worse, Dean's partner, Andy Herrera (Jaina Lee Ortiz), sees the whole thing. It's hard to tell how this will go since Maggie was previously dating Jackson Avery (Jesse Williams), but I foresee the need to buy more popcorn.
Long-time fans will also rejoice knowing Dr. Teddy Altman (Kim Raver) returns as a series regular. "Returning to Shondaland with the incredibly talented Krista Vernoff, Ellen Pompeo, and the amazing cast is heavenly," she told Entertainment Weekly. "I have a special place in my heart for Teddy and feel very lucky to have the opportunity to continue her story." If you'll remember, Maggie's supposed to keep Dr. Altman's secret — that she's pregnant with Owen Hunt's (Kevin McKidd) baby. Also, he has no idea. So, that's fun.
Though it's not up there with Grey's numbers, Station 19 still manages an impressive 5 million viewer-average which, honestly, is expected when sandwiched between two hit shows. As for the future of Shondaland Thursdays, ABC's Entertainment president, Channing Dungey, stated Station 19 and Grey's Anatomy will continue to have "more dynamic interplay." Basically, you'll see more of the characters you love, from both shows, on a regular basis. This is good news on so many levels. Prepare your eyeballs for all the crossover madness now.