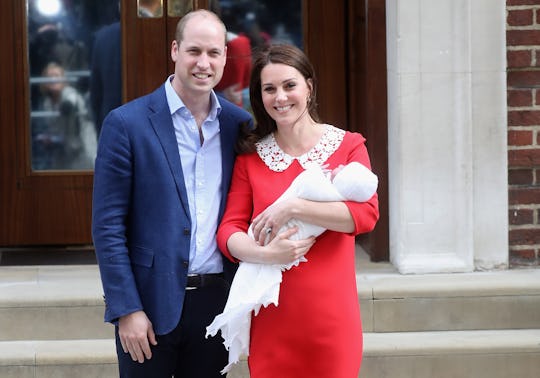 Chris Jackson/Getty Images Entertainment/Getty Images
Here Are The Top Picks For Prince Louis' Godparents
Almost two months after Prince Louis of Cambridge made his grand debut, Kensington Palace took to Twitter on Wednesday to announce the date of his christening. In an exciting turn of events for fans of the royals, Prince Louis will be baptized in London on July 9. And ahead of Prince Louis' special day, people have a lot of questions about the details surrounding the christening. Most of all, the public wants to know who will be Prince Louis' godparents. Although Prince William, Duke of Cambridge, and Catherine, Duchess of Cambridge, have yet to name the lucky people, it's rumored they're considering a group of close friends to take on the honor.
Picking your child's godparents can be a daunting task, especially when the entire world is watching. Luckily for William and Kate, however, they have an awesome community of close friends and relatives to choose from where it concerns godparents. Additionally, it's tradition for Kate and William to choose more than two people to act as godparents, which means they don't have to worry about potentially snubbing a loved one. Prince George of Cambridge, for instance, has a whopping seven godparents, while Princess Charlotte of Cambridge has five godparents. As for why the pool of godparents is so large, Robert Jobson, royal editor of The Evening Standard, explained to ABC News: "There's a feeling that because of their role as members of the royal family that they need as many confidants as they can get apart from their parents." Hmm, I guess that makes sense.
So, what about Prince Louis' godparents? Will the royal infant get seven godparents like Prince George or will he be given a smaller number? It's expected Prince Louis will have five godparents like Princess Charlotte, simply because there's a lesser chance he'll become king one day, according to the Belfast Telegraph.
As for who will make up the five godparents, there's a strong chance William's personal secretary, Miguel Head, and his former nanny, Tiggy Legge-Bourke, will join the group, according to The Daily Express. Following Legge-Bourke and Head, there's a possibility Camilla, Duchess of Cornwall's daughter, Laura Lopes, will be included. Interestingly enough, Lopes was one of Kate's bridesmaids.
Other picks include (yes, I know this list is quite long) Hugh, Edward or Nicholas van Cutsem, close friends of William, according to the Daily Mail. Kate's personal choice might be her former private secretary, Rebecca Priestley.
Oh, and if you're wondering if Meghan Markle, Duchess of Sussex, will make the cut, the likely answer is no. Meghan hasn't known William and Kate for very long, and the couple prefers to pick longtime friends who aren't in the spotlight. Richard Fitzwilliams, a royal commenter, explained to The Daily Express:
I doubt they would choose Meghan because they won't have known her that well. Meghan is new to the royal family, she wouldn't expect to be a godmother, this is usually reserved for those whom the parents have been close to for years, often many years.
Fair enough.
When it comes to Harry, it's also unlikely he'll receive the honor of godparent. As I mentioned, Kate and William are all about choosing friends for their kids' godparents. The reasoning behind this makes sense because Meghan and Harry already have a strong presence in the royal kiddos' lives — a title means nothing when it comes to family. Meghan and Harry are actually unofficial godparents, when you think about it.
No matter who Kate and William choose, it's obvious Prince Louis will be surrounded by a lot of special people throughout his life. It's truly heartwarming to see how much this little guy is loved.