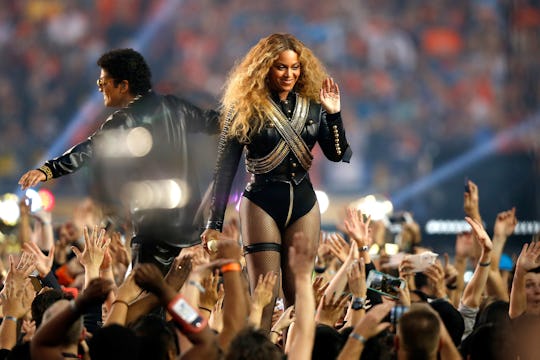 Ezra Shaw/Getty Images Sport/Getty Images
Who Will Beyonce Collaborate With On Her New Album? The Possibilities Are Just Too Good
Rumors have been circulating about Beyoncé's new album since her infamous "Formation" Super Bowl performance — and the "BeyHive" has been abuzz with excitement ever since. The good news? The wait may almost be over! Hollywood Life reported recently that Beyoncé's newest album may debut as early as next week — in fact, many believe April 4 to be the date, especially since her "Formation" tour, based on the yet-to-be-named project, begins on April 27 in Miami. But the release date isn't the only think people are questioning. Fans want to know about the albums contents, the track list, the "guests," and the songs — and more importantly fans want to know who Beyoncé will collaborate with on her new album.
Well, if "Formation" accurately conveys the tone of Beyoncé's new album, it is sure to be pow-er-ful. ("Formation" — the single and music video — first appeared online on Feb. 6, to a wave of favorable reviews.) As for who Queen Bey may be working with next, the rumors are plentiful and varied — with everyone from Naughty Boy to Cara Delevingne to Mariah (yes, that Mariah!) being named, at least according to Digital Spy.
Here are a few potential collaborations on Bey's upcoming album, if her recent work with other artists is anything to go on:
Naughty Boy
Since Beyoncé recently collaborated with Naughty Boy on "Runnin" — the first single from his album, Lose It All — many are wondering if he will return the favor.
Future
According to Digital Spy, last summer hip-hop artist and rapper Future mentioned that he was hanging out at Jay Z's pad but — and here's the big but — he said he was "actually working with Bey." Collaboration confirmed? Maybe, maybe not, but I will say this is one strong — and solid – lead.
D.R.A.M.
About the same time Future announced he was "working with Bey," D.R.A.M. posted a pic of him and Beyonce in a studio. Hmmmm.
Cara Delevingne
It has been rumored for quite some time that British model Cara Delevingne wants to break into music, at least according to Digital Spy, and she was pictured in Beyoncé's studio last spring. What better way to enter the industry than with Beyoncé by your side!
Mariah Carey
Wait... wait... wait. Hold the phone: Beyoncé may be collaborating with Mariah-freakin-Carey. Well, according to Ecumenical News and an Instragam pic (and post) from Beyoncé's choreographer Anthony Burrell that is exactly what may happen.
Beyoncé's "Formation" tour starts this April in North America, but until then, fans can still count on what will likely be an explosive new album with plenty of incredible collaborations to boot.