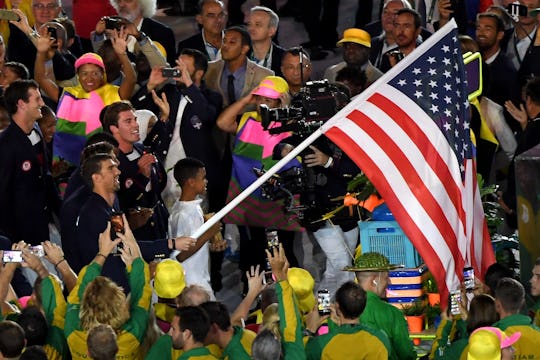 Ross Kinnaird/Getty Images Sport/Getty Images
Who Will Carry The U.S. Flag At The Olympics Closing Ceremony? The Team Chose Wisely
If the Olympic opening ceremony is to get everyone amped up for the games, the closing ceremony is a chance to celebrate the highlights of the competition. Which is why it's absolutely perfect that Simone Biles will carry the U.S. flag at the Olympic closing ceremony. There were more than enough crazy gold medal winners for Team U.S.A. to choose from, but it's nice to see a successful woman of color representing the country in the Olympics, especially since representation and race and gender seem to have been on many peoples' minds throughout the games.
Michael Phelps, who carried the flag at the opening ceremony, was one of the most decorated Olympian, but throughout the gymnastics competitions in Rio, Biles has earned the reputation of being the most successful gymnast ever with four gold medals and one bronze medal. The 19-year old has been called "the greatest gymnast ever," by gymnastics legend Mary Lou Retton.
Biles seems very excited about the honor of carrying the flag for her team on Sunday night. So excited, that she even had the guts to tweet at Zac Efron, her celebrity she met on the Today show. She wrote on Saturday morning, "hey @ZacEfron I'm carrying the flag for closing ceremony!! Will you still be here ? #GoTeamUSA."
Of course, the guts and dedication it takes to win four gold medals in an Olympic competition, but sometimes that pales in comparison to making moves on a crush. Especially when it's Zac Efron. She even told Us Weekly that she was way more nervous meeting the actor than she was before doing any of her routines over the past few weeks. Love makes everyone silly, huh? Funnily enough, Efron was nervous to meet her, too, but felt it was a duty. "Their story just blew my mind. When I found out Simone and this team were fans, I was like, 'What kind of guy am I if I don't show up?" he said, according to Just Jared.
He's a little older than the gymnast, but since he's been trolling Tinder looking for love lately, this could be a thing and the best reason for non-sports fans like myself to care about the Olympics. Love! Blushing! Flirty tweets! These are the sort of games I can really get into.
OK, I know it's bad to reduce Biles, in all of her athletic glory, to just one half the would-be cutest couple ever, but I have big hopes for this Olympic closing ceremony. Efron better texting her as right now to congratulate her on the high honor. And set a little something up for when they get back stateside. Do it for America, Efron.