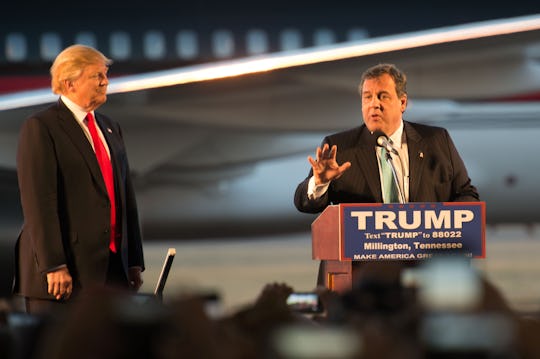 MICHAEL B. THOMAS/AFP/Getty Images
Who Will Donald Trump Choose As His Running Mate? The List Is Growing
The scary thing about this headline is that it presumes that Donald Trump will win the GOP nomination. The scarier thing is, according to recent polling, he's projected to do just that. So, if that unthinkable thing happens and he manages to win the Republican nomination for president of the United States, who will Trump choose as his running mate?
When New Jersey Gov. Chris Christie announced his endorsement of Donald Trump last week, Christie had many of his own supporters doing double-takes. It seemed so unlikely that many wondered if Christie was being threatened or hypnotized. Those things are, of course, hard to prove. What the public has to go on are his words, and in his endorsement statement, according to FiveThirtyEight:
Our system is broken and it won't be fixed from the inside. I am proud to offer my endorsement of [Trump's] candidacy for President.
Naturally, reporters concluded that if he was not being threatened he must have been offered something. While some speculated that he may have been tapped to run as Trump's vice president (Running Mate Hypothesis No. 1), others said that it was more likely he was aiming for an appointment as attorney general. He has, after all, served as a federal prosector.
So, if not Christie, then who? According to CNN, retired neurosurgeon Ben Carson once said he would be open to being Trump's running mate (Hypothesis No. 2). That may have been a throwaway statement, but Carson has already helped Trump so much by siphoning votes from his competitors that Trump may just return the favor. Plus, Trump may see Carson as a way to win over black voters, though Carson himself has not been very successful in that arena.
It would be remiss to leave former Alaska Gov. Sarah Palin out of this (Hypothesis No. 3). Who can forget that stream-of-consciousness endorsement she gave Trump early in his campaign? She's definitely been there for him, and, if we're going on credentials, she has plenty of experience as a running mate. Plus, her platform changes nearly as much as his does. They may make a fine team.
So, Christie, Carson, or Palin? What Christie has that Carson and Palin both lack is significant governing experience. Christie hardly has an untarnished record, but at least he has a general idea of how things work. When asked about who Trump may choose, apparently that insider know-how is just what he's looking for. While speaking at Regent University, he said:
I do want somebody that's political, because I want to get lots of great legislation we all want passed. I'd want someone who could help me with governing.
Christie may be a big contender now, but as Trump continues to collect delegates, Christie won't be the last Republican politician to see an opportunity and endorse him. In that same Regent University speech, Trump may have also hinted at another person he's considering. He said, in typical Trump-centric fashion, "I'm also very, very political. When you can get zoning on the west side of Manhattan to build almost 6,000 units of housing, and you have to go through New York City politics, believe me, that's tough." He went on to say, "Some of the people I've dealt with, I do have a lot of respect for."
That person he had to deal with was former New York City Mayor Rudy Giuliani (Hypothesis No. 4), who green-lighted that project and later hailed Trump's contribution to the transformation of waterfront. Though they started as business acquaintances, they became friends. They attended each other's weddings (how cute!), and supposedly catch up regularly over the phone. If one New Yorker with "New York values" can rally a huge percentage of the nation's voters, who knows what two can do. Maybe build a wall.