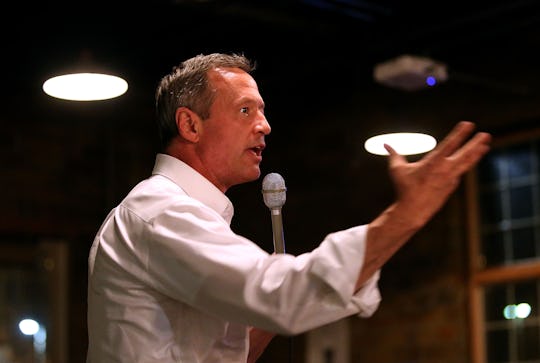 Justin Sullivan/Getty Images News
Who Will Drop Out After The Iowa Caucus? Some Candidates Could Be Seriously Affected
After months of debates, rallies, and knocking on doors, candidates are heading to Iowa. Though some frontrunners can expect positive results, there are plenty of politicians who won't see the voter turnout they're hoping for. Who will drop out after the Iowa caucus? It's difficult to predict, but the outcome of the caucus may have a significant impact on a number of campaigns.
Only candidates who have placed in the top three in the Iowa caucus have gone on to become president, according to an animation from ABC News. The Democrats don't have to be overly invested in that statistic since only three politicians are running; it means more for the Republicans' 12 candidates. Businessman Donald Trump and Texas Sen. Ted Cruz are likely to go head to head, CBS News reported. Florida Sen. Marco Rubio still has a shot, most recently polling at 15 percent. But candidates including former Florida Gov. Jeb Bush, neurosurgeon Ben Carson, and New Jersey Gov. Chris Christie are fighting for the voters' left over. If they can't place in the top three, history suggests that their Oval Office dreams will be unlikely to come true.
Former Secretary of State Hillary Clinton and Vermont Sen. Bernie Sanders seem to be competing for the Democratic win; CBS News reported that Clinton most recently polled at 45 percent with Sanders just slightly behind at 42. An article in USA Today predicted that former Maryland Gov. Martin O'Malley won't be able to meet the 15 percent requirement for viability, but it's unclear whether his supporters would then stand behind Clinton or Sanders. For Sanders to beat Clinton, there would likely need to be a significant turnout from young voters. A win for Clinton may rely on college students staying home. Clinton explained the importance of the Iowa caucus in an interview with CBS This Morning:
The people of Iowa get the unique opportunity before anybody in the world to decide who they think should be the next president and commander-in-chief. And I'm urging everybody who wants to go and caucus for me and stand up for me to please do so, so that I can stand up and fight for them through the campaign and into the White House.
Though the results of the Iowa caucus may prompt candidates to end their campaigns, it's possible that some of those who don't place in the top three will press on. Ohio Gov. John Kasich and Bush have both been campaigning in New Hampshire, according to CBS News. Kasich was not even scheduled to appear in Iowa on caucus day. It's evidence that, though results of the Iowa caucus have predictive power, they don't set anything in stone. In 2008, Arizona Sen. John McCain placed fourth, according to The New York Times, and he went on to win the Republican nomination.
Losing in Iowa may mean a longer, harder road to the White House, but the path may still be there. After Monday night, voters may get a chance to see who's really in it to win it.