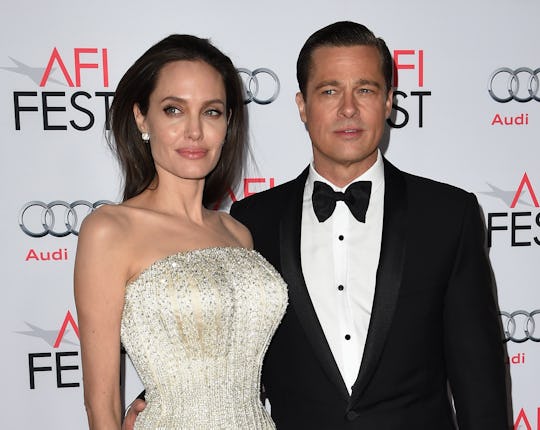 MARK RALSTON/AFP/Getty Images
Who Will Get Custody of Angelina Jolie & Brad Pitt's Kids? It Might Be A Battle
Angelina Jolie has decided to end her marriage to Brad Pitt in bombshell breaking news from TMZ. Jolie's legal documents in the divorce cite "irreconcilable differences." Now the question is: who will get custody of Angelina Jolie and Brad Pitt's kids? Jolie wants full custody of their six kids, leaving Pitt with only visitation rights.
Attorney Robert Offer gave a statement to Reuters, CBS News reported, saying, "This decision was made for the health of the family. She will not be commenting, and asks that the family be given its privacy at this time."
In a statement to People about the end of his marriage to Jolie, Pitt said "I am very saddened by this, but what matters most now is the well being of our kids. I kindly ask the press to give them the space they deserve during this challenging time." Romper has reached out to representatives of both Pitt and Jolie for comment, but has not yet heard back.
The eyebrow raising detail, besides the end of what appeared to be a fairy tale marriage between two of the world's most beautiful people, is the specific request from Jolie for physical custody of their children. "It's significant ... she does not want Brad to have joint physical custody ... only joint legal custody," TMZ claimed, in its report. "Angelina's decision to file has to do with the way Brad was parenting the children ... she was extremely upset with his methods."
Parents tend to argue about the best way to raise kids, but for it to be a big enough deal to end their marriage suggests something major. TMZ added that their sources say the split is "solely over Brad's interaction with their children."
The couple's six kids include Maddox, 15, Pax, 12, Zahara 11, Shiloh, 10, and Knox and Vivienne, their 8-year-old twins, according to Us Weekly.
Jolie isn't asking for spousal support.
Arguably one of the world's most famous couples, Pitt and Jolie got together in 2004 after meeting on the set of their movie Mr. and Mrs. Smith. Pitt later left his then-wife and American sweetheart-actress Jennifer Aniston, whom he divorced in 2005, Us Weekly reported. Pitt and Jolie, commonly referred to in tabloids as Brangelina, a combo of their two names, married just two years ago in 2014 on their French estate.
According to legal documents, the date of separation is listed as Sept. 15, 2016, a full five days before Jolie decided to pull the trigger. But you can't blame a girl for wanting to get herself together before her personal family drama and heartbreak was splashed on headlines all over the world.
As for the internet, the consensus seems to be that love is officially dead now.