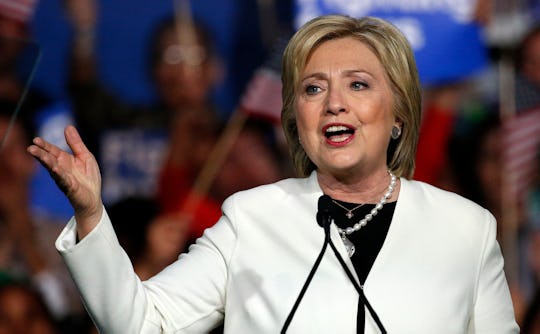 RHONA WISE/AFP/Getty Images
Who Will Hillary Clinton Choose As Her Running Mate? She Has A List Of Great Choices
Former Secretary of State Hillary Clinton knocked it out of the park on Super Tuesday, winning seven primary elections. She now has 1,034 of the 2,383 delegates needed to win the nomination — more than double Vermont Sen. Bernie Sanders' 408. As it's looking more and more likely that Clinton will land the Democratic nomination for president, people are starting to wonder who Clinton will choose as a running mate. The nation is already speculating that former steak salesman Donald Trump may choose New Jersey Gov. Chris Christie as his running mate (or at least his attorney general) after Christie introduced Trump at his Super Tuesday victory speech, but Clinton has yet to drop any hints.
Yahoo News speculated that Clinton might choose Secretary of Housing and Urban Development Julian Castro as a running mate; Castro has reportedly built bridges with Congress, which would be helpful to the Clinton administration. Yahoo News also pointed out that Castro's youth could be advantageous towards turning young Sanders fans to Team Hillary. When asked if she'd consider Castro as her pick for vice president, Clinton said, "I am going to look really hard at him for anything, because that's how good he is." Castro has campaigned for Clinton in Iowa and Texas, courting the Latino vote.
Another option for V.P. might be New Jersey Sen. Cory Booker, who you may remember as the former mayor of Newark, or possibly as a real-life superhero. Booker gained national attention in the aftermath of Hurricane Sandy, when he opened up his home to his constituents, feeding them and offering them a place to stay safe, watch movies, and charge their phones.
On the campaign trail in Iowa, Booker called Clinton "the most qualified person since George Washington" to serve as president, according to The Washington Post, and she in turn said that "it gives me such a sense of gratification that he is here, supporting me in this very important election, because there is nobody I'd rather have by my side." If he can't be at her side as vice president, could we at least get a buddy cop movie starring the two of them? The two are clearly super into each other (platonically, of course).
But what about Massachusetts Sen. Elizabeth Warren? It's not looking too likely, but that doesn't mean it can't happen. Before Clinton officially announced her candidacy, progressives were practically begging Warren to run instead of Clinton, because her politics are a lot more left-leaning than Clinton's.
Anti-Clinton Democrats eventually got their second choice with the "Democratic Socialist" Sanders, and now voters who feel the Bern are hoping he'll pick Warren as his running mate, should he receive the presidential nomination. When pressured to name Warren as his running mate during a January interview on The Nightly Show, Sanders said, "Elizabeth Warren is a very good friend of mine, I have known her for a long time, before she was in the Senate. She is a great U.S. Senator. She has stood up to Wall Street. She has stood up to the Big Money interests. So, she uh, she and I will work together." Not exactly proof that we'll be looking forward to a Sanders-Warren ticket.
Warren, for her part, has still not endorsed either candidate. (Could she be hedging her bets, hoping to get tapped by whichever candidate comes out on top?) California Sen. Barbara Boxer told MSNBC that "a couple of years ago," Boxer drafted a letter to Clinton urging her to run for president, and "every single Democratic female senator signed it, including Warren." It's true that Warren's politics align more closely with Sanders' than with Clinton's, but if the two women were to team up, that disparity could benefit them both; Warren could earn Clinton some support from more progressive Democrats, while also urging the Clinton White House a little more towards the left key issues, like Wall Street.
We can make as many guesses as we like, but Clinton has nothing but time; typically, vice presidential candidates aren't announced until the summer before the election. As soon as she has made her pick, we can get to the more pressing questions, like who will play the V.P. on Saturday Night Live.