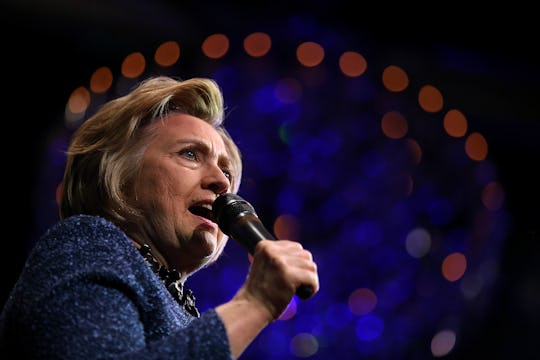 Justin Sullivan/Getty Images News/Getty Images
Who Will Hillary Clinton Choose As Her Vice President If She Wins The Nomination?
Because Democratic presidential candidate Hillary Clinton won the New York primary on Tuesday, it seems that her nomination at the Democratic National Convention against Vermont Sen. Bernie Sanders during the week of July 25 is all but guaranteed. She's on track now to become the first female president of the United States. Although I'm sure she took a minute or two to celebrate her victory in New York, Clinton is already onto the next step: discussing potential running mates. On Wednesday, her campaign chairman, John Podesta, told The Boston Globe that Clinton will certainly consider women, creating the potential for a historic and unprecedented all-female ticket. So, who will Clinton choose as her vice president if she wins the nomination?
The Clinton campaign has not offered any names of possible shortlisters for what The Globe's Annie Linskey called the "Democratic veepstakes." But one senator does seem like a strong choice: Elizabeth Warren, a Massachusetts Democrat and the only female Democratic senator who has not formally endorsed Clinton.
Warren's politics lean more to the left than Clinton's do — just this week, the senator relentlessly attacked Republican candidate Ted Cruz in a series of tweets, in response to what she saw as a whiny campaign email — meaning that she could potentially help Clinton win back the progressives Sanders has wooed over this campaign cycle.
"Having Warren on the ticket could help Clinton stitch the party back together after a divisive primary," Linskey writes.
The Washington Post reports that there are only three Democratic women governors and 14 such senators, so the list of women who are likely VP candidates is relatively short. This dearth could theoretically work in Warren's favor, if she wants the job, but The Post characterized the freshman senator as "really not that tested." Also, if she were to leave her current position, the current governor of Massachusetts, a Republican, would get to choose Warren's replacement until a special election is held, which could take between 145 and 160 days.
"Hillary will be reluctant to do anything that could stop Democrats from re-taking the Senate and undermine her ability to push an ambitious agenda during her first 100 days," James Hohmann writes.
Importantly, it's not at all clear that Warren even supports Clinton or wants the job (although the tweetstorm directed at Ted Cruz suggests she does, as the VP traditionally takes on an "attack dog" role for their running mate).
Other potential female contenders could include Cecile Richards, the president of Planned Parenthood Action Fund, according to the Globe, or New York Sen. Kirsten Gillibrand, although a "constitutional muddle" could pose challenges when it comes to having two people from the same state on the ticket. Michigan Gov. Jennifer Granholm doesn't meet the "natural born citizen" standard because she was born in Canada.
Clinton has until summertime to announce her pick, and her choice could be contingent on what ends up happening with the Republicans. A contested convention between Cruz and rival Donald Trump is seeming more and more like a likely outcome, and the Clinton camp may not know whom she'll duke it out with until days before the DNC in Philadelphia if that happens. And qualities she may covet in a running mate against Cruz probably will differ significantly from those she'd need to defeat Trump.
Regardless of who Clinton ultimately partners with if she wins the nomination — woman or man — the fact that we are even discussing the possibility to a two-woman ticket is exciting in and of itself. Clinton's first priority is to win, of course, and no matter what, she's making history in her quest to do so.