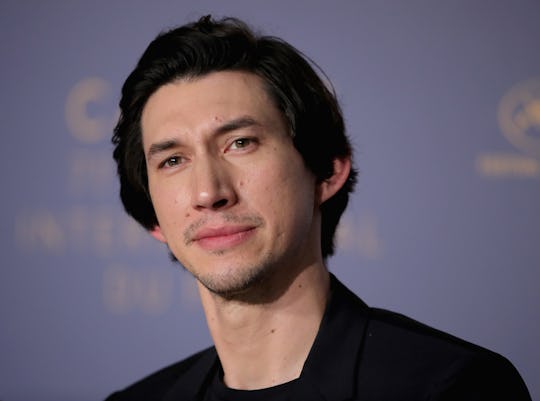 Andreas Rentz/Getty Images Entertainment/Getty Images
Adam Driver Hosts The Premiere Of 'Saturday Night Life' Season 44
Fans of Saturday Night Live may have been feeling its absence over the last few months. The break between seasons can be interminable, especially if it leaves a void in your weekend TV-watching schedule. But the wait will be over soon: SNL returns with an all-new season of skits on NBC on Sept. 29. But who will host the Saturday Night Live Season 44 premiere?
The network has already announced both the host and musical guest of its first episode back. Adam Driver will be the one ushering viewers from scene to scene, while Kanye West takes to the stage for the music breaks. The news was announced on SNL's official Twitter account just a couple of weeks ahead of the show's return.
Both Driver and West have been on the show before, so the premiere will be something of a reunion, too. Driver hosted SNL in 2016, while West has been the musical guest six times before. His last appearance was also in 2016, though he and Driver never overlapped before. Both men have had big years in their respective fields; West's last album Ye came out in June of this year, while Driver recently co-starred in BlacKkKlansman.
Driver initially made a name for himself playing Adam on Girls, but his career exploded after he joined the cast of the new Star Wars films as Kylo Ren. The next one, Star Wars: Episode IX, will land in theaters in December 2019 according to ComicBook.com. But that's not all Driver is up to. He has several other projects lined up as well, so he'll have a lot to promote when he hosts SNL. It seems like he'll be pretty busy for the next few months will the movies on his resumé.
He has at least five films set for release, including The Man Who Killed Don Quixote, an Untitled Noah Baumbach Project, The Torture Report, The Dead Don't Die, and Annette. Not all of those films will be easy to find, however, as a legal battle over the rights of The Man Who Killed Don Quixote complicated its release. But fans of Driver will have his SNL appearance to tide them over until all of his movies make their way to screens large and small.
Considering Kylo Ren is likely Driver's most well-known role, there's sure to be at least one sketch about the character (and perhaps a few references in Driver's opening monologue, too). The last time he was on SNL, they parodied the reality show Undercover Boss with Kylo Ren moving amongst his workers as Matt the Radar Technician. Maybe when Driver hosts the premiere, viewers will get an update on how working conditions have been at the Starkiller Base.
But even if SNL does revisit the comedy of Kylo Ren, that will only be one aspect of the episode. Driver is sure to deliver lots of other laughs over the course of the night, though unfortunately not all of them will be accompanied by a lightsaber.