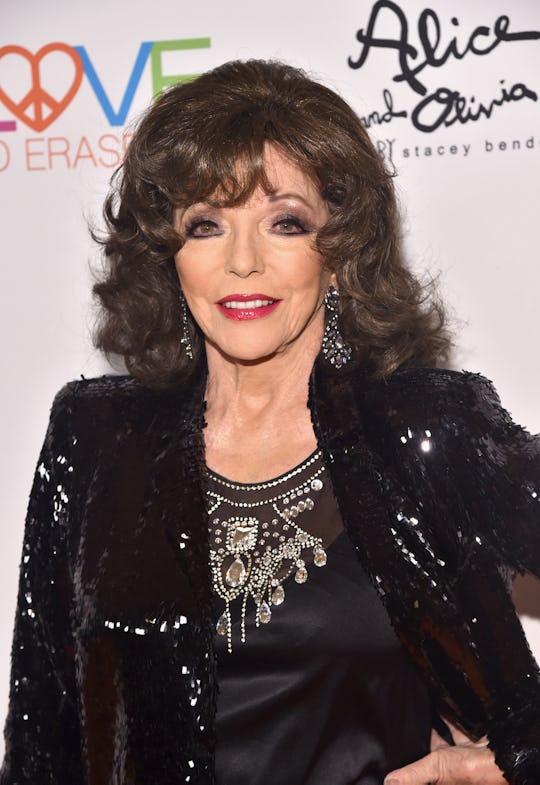 Alberto E. Rodriguez/Getty Images Entertainment/Getty Images
Joan Collins Is Coming To 'American Horror Story'
When it comes to TV icons, few can touch the legendary Joan Collins. Throughout the '80s, she lit up TV screens as Alexis Carrington on Dynasty. With 70 years of acting under her belt, the English actress is now joining the cast of American Horror Story, and fans couldn't be more thrilled. So who will Joan Collins play on AHS: Apocalypse?
Collins will play the part of Evie Gallant, the glamorous grandmother of Evan Peters' character, Mr. Gallant. Who the Gallants actually are is still a mystery, but according to Deadline, show runner Ryan Murphy described Mr. Gallant as a comedic hair stylist. There isn't much detail about Collins' role in the story, but in the trailer, you can see her on a crash-bound jet sitting next to Peters and Leslie Grossman She looks glamorous as ever, with perfectly coiffed hair, a plunging neckline, and sparkling statement jewelry.
But the new season also features the same actors playing different roles. Along with playing Mr. Gallant, Peters will also be reprising his role as Tate Langdon from AHS: Murder House. While Collins' look as Evie Gallant shows her with brown hair, an Instagram picture she shared from the set has her in a voluminous white wig and a track suit, a completely different look from what is seen in the trailer. This has me wondering if Collins is also playing two roles on the series, but AHS production has been pretty tight-lipped about characters and storyline.
When talking to Town and Country, AHS co-creator Brad Falchuk discussed his admiration for Collins, but didn't drop details on her role. "We have all been obsessed with her forever, Joan is classic Holly­wood, a legend," Falchuk told the magazine. "I'm mum about her character except to say we are having a lot of fun writing it."
Collins, now 85, landed her role on AHS by chance. To Town and Country she revealed that she was a fan of the show, and had asked her agent to get her a role on it. But it wasn't until she bumped into Murphy at a Vanity Fair party, that it actually became a reality.
"I met Ryan Murphy at the Vanity Fair Oscar party, and we had a lovely conversation, but I really didn't think much more of it," said Collins. "Two weeks later we go to see Barbra Streisand at the PaleyFest — and Ryan says, 'I just made an offer on you!' A lot of things happen when you go to those parties."
With Collins on board this season, along with legends like Kathy Bates and Sarah Paulson, AHS: Apocalypse appears to be one of the franchises most ambitious seasons yet. The story will be a culmination of previous seasons' characters and storylines, and according to FX, it will feature a returning cast of characters from Murder House and Coven. Actors slated to return include Jessica Lange, Emma Roberts, Billy Eichner, Dylan McDermott, Connie Britton, Taissa Farmiga, and Lily Rabe, along with the addition of Cody Fern as this season's villain, Michael Langdon.
For AHS fans, this season is going to be a thrill, and as a Dynasty fan myself, I can't wait to see Collins back on screen in all her glam glory.
American Horror Story: Apocalypse premieres on Wednesday, Sept. 12 on FX.