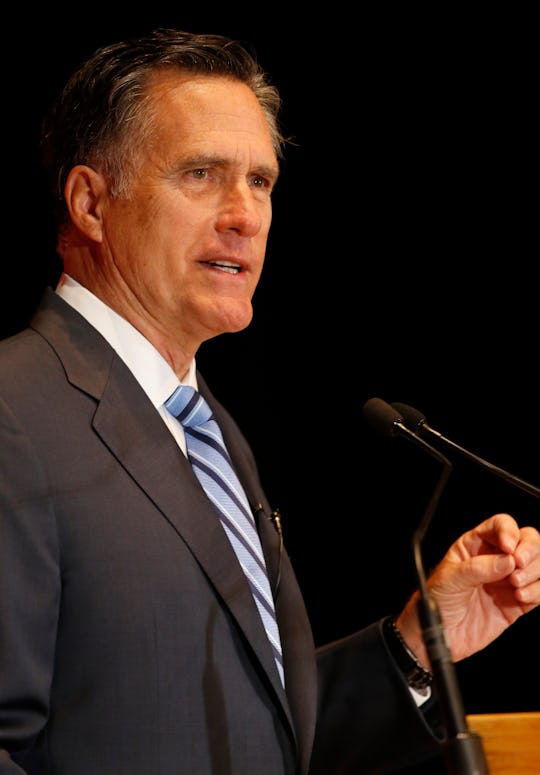 George Frey/Getty Images News/Getty Images
Who Will Mitt Romney Endorse? He's Certainly Not A Fan of Trump
Late Sunday, Ohio Gov. John Kasich's campaign announced that a big name in the Republican party would be joining him at two Ohio campaign stops. Former Massachusetts Gov. Mitt Romney has not been on the campaign trail since he lost the 2012 elections to President Barack Obama, so his appearance by Kasich's side in North Canton and Westerville is surprising — but it appears to be the latest attempt by Romney to block business mogul Donald Trump from securing the nomination. Romeny isn't expected to actually formally endorse Kasich, however — which is likely making Republicans wonder: who will Mitt Romney endorse?
Romney has held out on endorsing a Republican candidate for some time, and rumors are swirling that he may join the race later this year if there is a brokered convention. According to The Washington Post, more than 20 Republican officials attended a dinner in December to talk about the possibility of a brokered convention in the 2016 Republican nomination, which could take place if no candidate managed to secure the majority vote. Both The Washington Post and BuzzFeed have mentioned the possibility of Romney joining the race at the last minute to avoid a Donald Trump nomination. However, the likelihood of a brokered convention is low — neither party has had one since 1952.
It is more likely that Romney simply wants to see Trump stay out of power. Not only is he joining Kasich on upcoming campaign stops in Ohio, but he also recorded campaign phone calls for Florida Sen. Marco Rubio before that. The messages themselves made his point pretty clear. "If we Republicans were to choose Donald Trump as our nominee, I believe that the prospects for a safe and prosperous future would be greatly diminished — and I'm convinced Donald Trump would lose to Hillary Clinton," he said in the pre-recorded message, according to The New York Times.
Romney's message for Rubio's campaign came shortly after he delivered a blistering talk at the Hinckley Institute of Politics Forum, according to NBC:
I believe with all my heart and soul that we face another time for choosing, one that will have profound consequences for the Republican Party and more importantly, for the country. Mr. Trump is directing our anger for less than noble purposes. He creates scapegoats of Muslims and Mexican immigrants, he calls for the use of torture and for killing the innocent children and family members of terrorists. He cheers assaults on protesters. He applauds the prospect of twisting the Constitution to limit first amendment freedom of the press. This is the very brand of anger that has led other nations into the abyss.
It seems that Romney's endorsement strategy, for now, is simply to keep Trump out of power — and if that means supporting Rubio in Florida and Kasich in Ohio, he's proved that he's up to the task. Whether that leads to a very odd turn of events on a future convention floor remains to be seen.