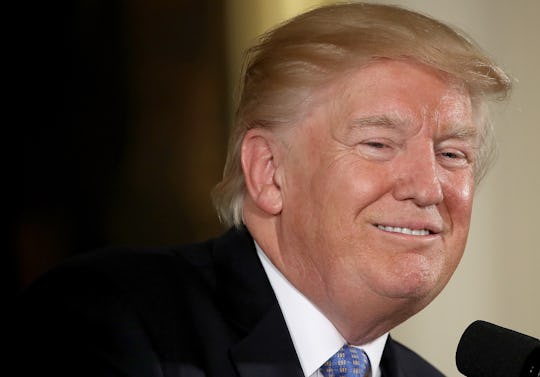 Win McNamee/Getty Images News/Getty Images
Trump Has Used Up All The Secret Service Funds, So Who Will Pay Now?
When President Trump was still just a candidate for the job, the people of Manhattan were well aware of the security headache that would result because Trump and his family wanted to stay at their posh Trump Tower residence. Worse still, New York City taxpayers had to foot the $24 million bill between Election Day and the inauguration. According to USA Today, the U.S. Secret Service has used up its available funds to pay more than 1,000 agents, because of how much money has been spent protecting Trump and his large family so far. So, now who will pay for Trump's Secret Service? Here's a hint: It's pretty much the same setup as New York.
The U.S. Secret Service was formed in 1865, as part of the U.S. Treasury Department to detect fraud and counterfeiting, according to the Secret Service website. It didn't start offering presidential protection until 1894, and only then it was informal and part-time protection of President Grover Cleveland. In 1906, Congress passed the Sundry Civil Expenses Act of 1907, which appropriated funds to protect the president. So, what does that mean in everyday lingo? That's right: Me, you, and every American taxpayer pays for the Secret Service — and that's only half of the rage-inducing reality.
According to The National Priorities Project, expenses within the federal budget are paid by federal tax revenues. Tax revenues typically come from three difference sources: income taxes, payroll taxes, and corporate income taxes. Given that Trump wants to slash corporate taxes as much as he can — not like it would financially benefit Trump's businesses or anything — it's unlikely corporations would see their taxes increase, which means those costs will likely be passed onto the American taxpayer.
Congress is currently on recess, but the GOP has tax reform lined up as its first order of business once everyone comes back to Washington, D.C. in September. It remains to be seen just how Congress might take up the issue of how the Secret Service will be paid when agents' salary and overtime caps for the year have been hit just seven and a half months into 2017.
Trump's Secret Service detail covers 18 of his family members and another 24 individuals within the administration, according to CNN. Traveling as a Trump family entourage means that all of the required Secret Service detail travels with each member of the family. Everything from lodging to even golf cart rentals — for Trump's 55 golf club visits since becoming president — add up and must be paid. Now, here's where it gets particularly awful.
According to NBC News, Trump has spent 75 days at Trump properties since he became president, as of Aug. 10. When Trump visits any one of his properties with his Secret Service detail — which is any time he goes now — it's his property collecting the funds for those golf cart rentals, which means, in effect, the American taxpayer is paying for the Secret Service needed on Trump's golf outings. And no, these specific acts don't violate the Emoluments Clause — Trump can totally profit off his businesses while president by collecting payments for services rendered to his Secret Service detail, even though it's ethically unsound.
Even so, maybe President Trump could, oh, I don't know, maybe put down the golf club for more than seven days at a time and quit bankrupting the Secret Service with his extravagant and unnecessary travels.