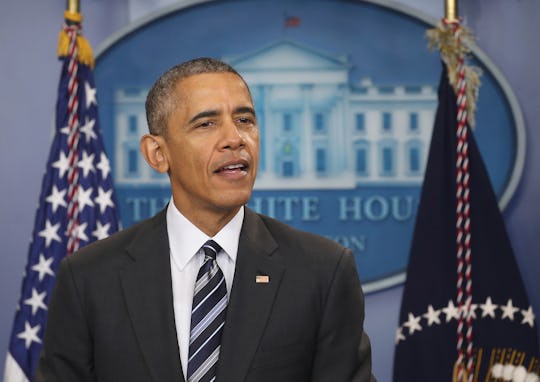 Mark Wilson/Getty Images News
Who Will President Obama Endorse For President? His Hints Have Been Super Confusing
It's the biggest endorsement up for grabs between the two Democratic candidates for president: the endorsement from President Barack Obama. Politics experts and reporters have continued to watch the White House to try and figure out who Obama will endorse for president. It's likely his first choice probably would have been his right-hand man Vice President Joe Biden. But since Biden determined, after the tragic loss of his beloved son to cancer last year, that he wouldn't run, it's been a question mark whether former Secretary of State Hillary Clinton or Vermont Sen. Bernie Sanders would earn the nod from the big guy.
In recent weeks, Obama has given some clues. First, he came out and praised the "wicked smart" Clinton just ahead of the Iowa caucuses and said she "knows every policy inside and out." The comment was largely viewed as an all-out endorsement of Clinton by Obama, but then he confused everyone when he invited Sanders to the White House for a one-on-one meeting. Then, just this week, Jay Carney, the president's former spokesman who now works for CNN, said the president has "signaled" that he supports Clinton. Which, when you think about it, makes perfect sense.
Obama, in addition to his other roles and duties, also serves as the head of the Democratic Party. Sanders is a proud Independent. And, although he caucuses with the Dems in the Senate, it's worth noting that Sanders hasn't been an active or supportive member of the party. And while many of his policy positions are in line with the Democrats, the party has been leery about electing a president who hasn't been a loyal member. Clinton, by contrast, has been down with the party since the 1970s, not to mention she's the wife of the biggest (Democratic) party rock star of all, former president Bill Clinton.
Many also see Clinton's "hugging" of Obama's presidency as an attempt to court the president's support. In Thursday night's PBS debate, Clinton made every attempt imaginable at trying to align herself with the Obama presidency.
So in the weeks ahead, many will look for Obama to continue to say nice things about both candidates, but quietly root a bit harder for Clinton. Nonetheless, once a Democratic nominee is announced, you can bet Obama will hit the campaign trail with gusto for whomever it is.