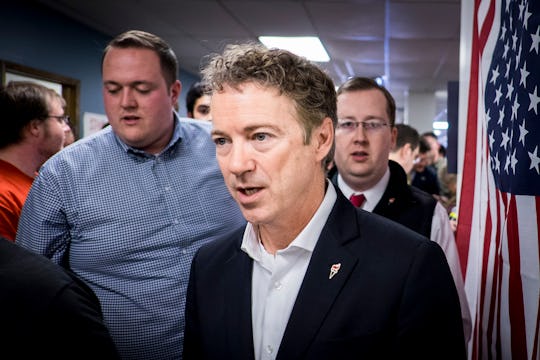 Pete Marovich/Getty Images)
Who Will Rand Paul Endorse For President? He's Not Planning On Backing Anyone Just Yet
Kentucky Sen. Rand Paul announced Wednesday that he would be suspending his 2016 presidential campaign. But even in all the chaos of the day (it is the same afternoon that fellow Republican Rick Santorum chose to end his bid as well, after all), there's one lingering question on everyone's minds: Who will Rand Paul endorse for president?
Right now, it appears as though Paul might not stand behind any of his former competitors until the GOP nominee is selected. A representative from Paul's campaign said in a statement this week that the senator would not support any one candidate during the primaries, but that he would instead "endorse his party's eventual nominee", The Guardian reported. Paul's decision to drop out of the race came after a fifth-place finish in Iowa — a disappointing result for someone who went to great lengths to run for the Senate and the presidency simultaneously. In a statement, Paul expressed his desire to continue a political career built on libertarian ideals:
Although today I will suspend my campaign for president, the fight is far from over," he said. "I will continue to carry the torch for Liberty in the United States Senate and I look forward to earning the privilege to represent the people of Kentucky for another term.
Paul's decision to focus on Kentucky and avoid endorsing a candidate in the primaries may be an indication of the uniqueness of his platform. The two Republican frontrunners, Donald Trump and Texas Sen. Ted Cruz, both appeal to "socially conservative libertarians," according to The Guardian. The problem, then, is that Paul could never quite connect to either one. Trump and Paul had a particularly contentious relationship. In August, The Washington Post published Trump's thoughts on Paul's campaign:
I feel sorry for the great people of Kentucky who are being used as a back up to Senator Paul's hopeless attempt to become President of the United States--- weak on the military, Israel, the Vets and many other issues. Senator Paul has no chance of wining the nomination and the people of Kentucky should not allow him the privilege of remaining their Senator. Rand should save his lobbyist's and special interest money and just go quietly home.
Paul has never shied away from taking on Trump. During last August's first GOP primary debate, Trump said that he would consider running as a third party candidate if he did not earn the Republican nomination. Paul then called Trump's character into question. "He buys and sells politicians of all stripes, he's already hedging his bet on the Clintons, okay?" Paul said. "So if he doesn't run as a Republican, maybe he supports Clinton, or maybe he runs as an independent, but I would say that he's already hedging his bets because he's used to buying politicians."
Cruz and Paul have had a stronger relationship, though the two still differ on policy. On This Week with George Stephanopoulos, Cruz spoke about where he and Paul disagree, saying,
I'm a big fan of Rand Paul; he and I are good friends. I don't agree with him on foreign policy. I think U.S. leadership is critical in the world, and I agree with him that we should be very reluctant to deploy military force abroad, but I think there is a vital role, just as Ronald Reagan did.
Cruz may not be quite the libertarian Paul is, but the two are perhaps the strongest representatives of the Tea Party. If Cruz gets the Republican nomination, it's likely Paul won't have a problem standing behind him. But if Trump represents the GOP, Paul may have trouble offering his support.