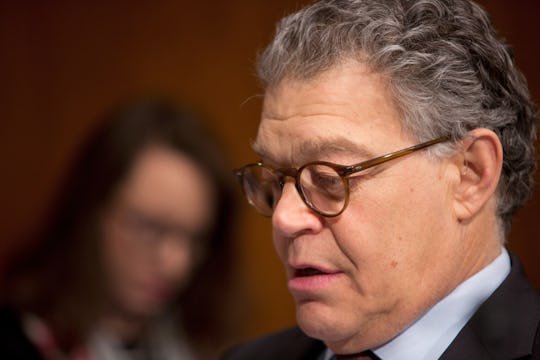 Tasos Katopodis/Getty Images News/Getty Images
Al Franken Resigns Following Harassment Allegations, & Here's What You Need To Know
Following numerous sexual harassment allegations, Al Franken announced he will resign on Thursday from the Senate floor, according to The Atlantic. The announcement has many Americans, especially constituents in Minnesota, wondering who will replace Franken once he officially steps down from office.
Throughout the past few weeks, Democrats and Republicans alike have called for Franken to resign from the Senate. Although it initially looked like Franken would ignore those calls from his colleagues and growing public outcry, he ultimately decided to give up his seat.
Franken said that he plans to resign from the Senate in the "coming weeks," according to The Atlantic, and that serving his constituents had been a "great honor."
Franken's full resignation statement hit a lot of points, especially where it concerns Republicans' continued support of Alabama Senate GOP nominee, Roy Moore, and President Donald Trump. Although Franken didn't call out Trump or Moore by name in the speech, it's quite obvious who he was talking about.
Franken said, according to The New York Times:
I of all people am aware that there is some irony in the fact that I am leaving while a man who has bragged on tape about his history of sexual assault sits in the Oval Office, and a man who has repeatedly preyed on young girls campaigns for the Senate with the full support of his party.
Franken also took a beat to seemingly deny some of the sexual harassment allegations made against him in recent weeks, arguing, according to NPR:
I am proud that during my time in the Senate I have used my power to be a champion of women and that I have earned a reputation as someone that respects the women I work alongside every day. I know there has been a very different picture of me painted in the last few weeks, but I know who I really am.
Although Franken's statement has a lot of points worth discussing and analyzing, there's a more pressing issue at hand, like who will fill his Senate seat.
When a senator resigns, "the Seventeenth Amendment allows state legislatures to empower the governor to appoint a replacement to complete the term or to hold office until a special election can take place," according to the United States Senate.
Therefore, Minnesota Gov. Mark Dayton will ultimately choose who will replace Franken.
Dayton is reportedly considering the following options.
Lt. Governor Tina Smith
Smith is a top choice for Franken's replacement, according to Newsweek. Smith is reportedly close to Dayton, and she has a lot of experience with politics in Minnesota.
A Democratic operative said of Smith's history with the state, according to Politico:
[Smith] really gets Minnesota, she gets the players, she has great built-up relationships. She makes practical sense, and she would be a good bridge builder.
If Smith is chosen, she will not run in the November 2018 special election for Franken's seat, according to the Star Tribune.
Minnesota Rep. Keith Ellison
A senior Minnesota Democrat told CNN that Ellison is another likely candidate to take over Franken's seat.
Ellison currently serves as the deputy chair of the Democratic National Committee, according to The Hill, and he's a bit of a rising star in the Democratic party. Ellison has served the people of Minnesota since 2006, and he was the first Muslim elected to Congress, according to CNN.
Ellison is also a vocal opponent of Trump. Shortly after Trump's inauguration, Ellison said, according to The Washington Post:
It's time for people to get active, to get involved, to vote and to organize. Trump must be stopped, and people power is what we have at our disposal to make him stop. We need mass rallies. We need them all over the country. We need them in Texas. We need them in D.C. We need them in Minnesota.
Minnesota Rep. Tim Walz
Walz is also being tapped for Franken's seat, according to CNN.
Walz isn't a very likely choice considering he announced he'd run for governor of Minnesota in 2018, according to Politico. On the other hand, it's possible he might give up his shot for governor for a seat in the Senate. You never know.
As for Walz's qualifications, he is the "highest-ranking enlisted service member ever to serve in Congress," according to his campaign website.
Although it remains to be seen who will replace Franken, it's clear Dayton is not short on possible options.