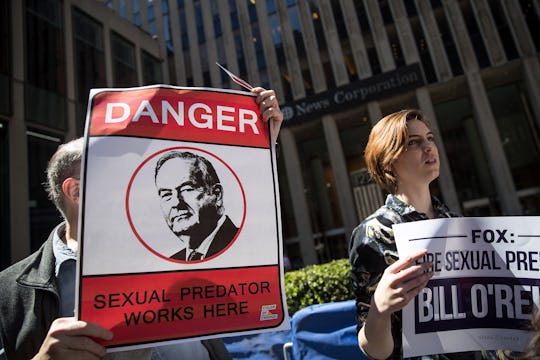 Drew Angerer/Getty Images News/Getty Images
Here's Who Could Replace Bill O'Reilly On Fox News
Bill O'Reilly is officially out at Fox News, a company statement confirmed on Wednesday. That confirmation comes on the heels of speculation over who might replace O'Reilly in his 8 p.m. slot on the news network's prime-time round up. For a while now, the rumor mill has been churning out more and more suggestions, given that O'Reilly was under intense national scrutiny following numerous sexual harassment allegations against him, as reported by The New York Times.
O'Reilly's time slot is perhaps the most desirable option for cable news personalities, especially since his viewership is so strong (4 million viewers every night, according to The Washington Post), and has remained so despite all the allegations. But as advertisers steadily dropped out of The O'Reilly Factor's programming, it was only a matter of time until Fox News decided to remove O'Reilly from its arsenal. So, who has Fox chosen to take over O'Reilly's time slot? According to 21st Century Fox's statement, Tucker Carlson will get the honors:
Beginning Monday, April 24th, Tucker Carlson Tonight will take over the 8PM timeslot, broadcasting live from FNC's Washington, DC bureau. The Factor will continue for the remainder of this week at 8PM with guest hosts Dana Perino tonight and Thursday night and Greg Gutfeld on Friday night. Additionally, The Five will move into the 9PM timeslot starting Monday.
Seeing as how Carlson's popularity has steadily risen in the Trump era, this decision by Fox isn't exactly too surprising.
The prevailing factor in O'Reilly's downfall was a report by The New York Times that uncovered how Fox had defended, protected, and doled out millions in settlements for several sexual harassment allegations brought against him. According to The New York Times,
Last week, the Murdochs enlisted the law firm Paul, Weiss, Rifkind, Wharton & Garrison to conduct an investigation into Mr. O'Reilly's behavior after one woman, who had detailed her allegations against Mr. O'Reilly to The Times, called the company's hotline to report her complaints. Another complaint was reported on Tuesday, according to the lawyer who represents the woman making the allegations.
While pressure has been mounting at Fox over O'Reilly's scandals, it seemed unlikely anything would change until it actually did. Despite advertisers dropping out of programming, The O'Reilly Factor's viewership had a 20 percent increase just weeks ago.
But then, Fox's parent company, 21st Century Fox released a statement confirming that O'Reilly had been dropped. "After a thorough and careful review of the allegations, the company and Bill O'Reilly have agreed that Bill O'Reilly will not be returning to the Fox News Channel," the company wrote in a press release.
Of course, O'Reilly's programming will continue this week, but make no mistake: Bill O'Reilly is officially done at Fox. And though Tucker Carlson may not exactly get the warm reception he's hoping for (the host is undeniably divisive, even in conservative circles), for now, he's getting the honor of picking the mantle. As for how long the change lasts? It's anyone's guess.