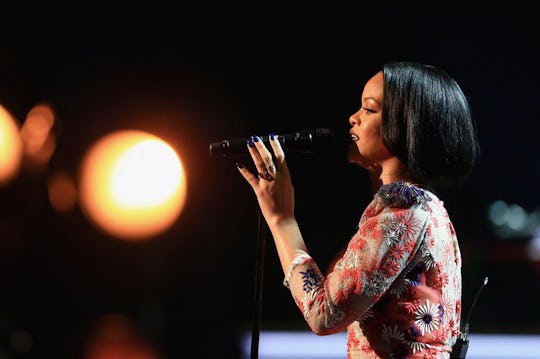 Christopher Polk/Getty Images for NARAS
Who Will Replace Rihanna At The Grammys? It Doesn't Look Good
During the 58th Annual Grammy Awards, Rihanna shocked the music world by suddenly canceling her highly-anticipated performance. According to TMZ, the world-renowned singer is suffering from bronchitis, leaving many to wonder, uh, who will replace Rihanna at the Grammys? Rihanna's cancelation came at the literal last minute, so the powers that be at CBS and the Grammys may not have enough time to replace her with another act. TMZ reported that sources close to production said that Rihanna did attend the Grammys red carpet event, and attempted to rehearse before the show. Unfortunately, she decided to listen to her doctors and after a few attempts, left The Staples Center and chose to go home.
It's unknown at this time, who (if anyone) will fill the Rihanna void. (And honestly, is that even a thing? Can anyone really fill her shoes?) Romper reached out to CBS and the Grammys for comment, to which a spokesperson from CBS replied:
Based on Rihanna's examination, after Grammy rehearsal today, Rihanna's doctor put her on vocal rest for 48-hours because she was at risk of hemorrhaging her vocal chords. The antibiotics she has been on for 3-days did not kill the infection adequately therefore she cannot perform safely.
Rihanna also took to twitter to apologize for her absence, and thank CBS and The Grammys for their support.
This isn't the first time Rihanna has canceled a Grammys performance. Unfortunately, we all remember when Rihanna and Chris Brown canceled their 2009 Grammys performance after Brown was arrested on felony domestic violence charges for attacking Rihanna the night/early morning before the award show. Because it's happened in the past, it's safe to assume that the Grammys do have a plan in place for such events (though there not telling the rest of what they're going to do).
Individuals were quick to take to Twitter and voice their concern as well as their disappointment over RiRi's failed performance. While many are honestly and authentically concerned for the singer's health, there's no denying that her absence will be noticed and her would-be performance, genuinely missed. Here are just a few things Rihanna's fans had to say about her sudden Grammys cancelation:
Well, there's always next year. Right?