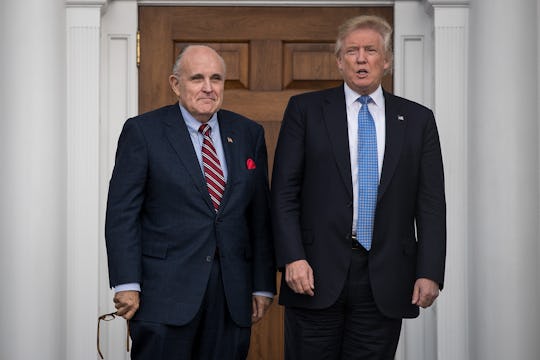 Drew Angerer/Getty Images News/Getty Images
Who Will Replace Rudy Giuliani As Secretary Of State Pick? Giuliani Is No Longer An Option
Throughout President-elect Donald Trump's presidential campaigning season, former Mayor of New York Rudy Giuliani loyally stood by Trump's side, through thick and thin. Giuliani was often seen on TV defending Trump to news anchors and celebrating Trump's recent victories. It was clear that Giuliani's loyalty would not go unrecognized — however, Giuliani is now no longer in the running for secretary of state. So who will replace Rudy Giuliani as secretary of state pick? The pressure is on the Trump transition team now, as they must pick from a pool without a clear frontrunner as to who gets the spot.
On Friday Trump's transition team released a statement pertaining to rumors that Giuliani was no longer in contention to be a part of Trump's cabinet and would no longer stay in the running for the super important cabinet position of secretary of state:
Rudy Giuliani is an extraordinarily talented and patriotic American. I will always be appreciative of his 24/7 dedication to our campaign after I won the primaries and for his extremely wise counsel. He is and continues to be a close personal friend, and as appropriate, I will call upon him for advice and can see an important place for him in the administration at a later date.
This is major news — Giuliani was once a serious contender for the position of secretary of state. With Trump announcing Giuliani is out of the running, it poses the major question — if not Giuliani then who?
According to The New York Times, the leading contender for secretary of state is Rex W. Tillerson, the current head of major gas company Exxon Mobil. Tillerson met with Trump on Tuesday and "has been strongly recommended by a number of business leaders" to be secretary of state, according to The New York Times. Tillerson is described by The Wall Street Journal as "a seasoned deal maker" with "close ties to Vladimir Putin." Like Trump, Tillerson does not have any government experience.
But until it is announced, Tillerson as secretary of state is not a done deal. According to The New York Post, Giuliani said in a statement that the campaign has narrowed down the field to "two, three, or four finalists" for the position. According to The Washington Post, Mitt Romney and General David Petraeus have all been serious contenders for the role — which will deal with foreign policy and oversee 70,000 state department employees. Petraeus has expressed his interest in working for Trump and already has quite a few influential Republicans championing for him to get the job. In spite of facing criticism from Trump advisor, Kellyanne Conway, Trump has assured people that former Massachusetts Gov. Mitt Romney is still very much in the running for the secretary of state position. According to CNN, Trump is "seriously considering" Romney for the role. Tennessee Sen. Bob Corker is one of the lesser known candidates who is still in the running for the position as well, according to USA Today. Seriously, at this point, it could be anyone.
As Trump continues to name picks for his cabinet, he will eventually have to name his pick for secretary of state within the next few weeks. With Giuliani out of the picture, who will fill the position is now a major point of speculation — and will hopefully become clearer in the upcoming days.