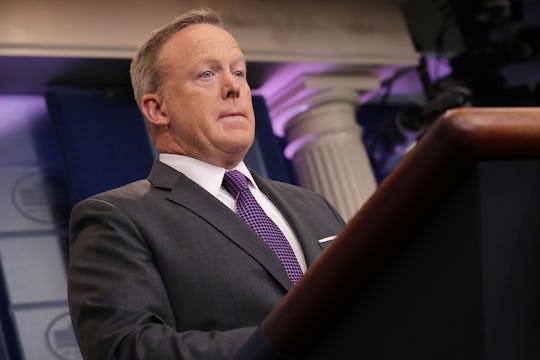 Chip Somodevilla/Getty Images News/Getty Images
Who Will Replace Sean Spicer?
On Friday morning, Sean Spicer resigned from his role as White House Press Secretary. He's officially stepping down from his role, according to The New York Times, because he "vehemently disagreed" with President Donald Trump's appointment of Anthony Scaramucci as communications director. So who will replace Sean Spicer? There's no official candidate yet, but we can take a look at several possibilities.
According to The New York Times, Trump offered Mr. Scaramucci the communications director job at 10 a.m Friday. President Trump requested that Spicer stay on in his role, but Spicer reportedtly told Trump that he believed the appointment of Scaramucci "was a major mistake" — apparently major enough in his mind that he would quit his job over it, and that's a really big deal.
Update: The San Francisco Chronicle Magazine and several other sources have reported that Sarah Huckabee Sanders is the new press secretary for the White House.
Previously: CBS News reported that Spicer has taken a step back in his role in the administration recently, with deputy White House Deputy Press Secretary Sarah Huckabee Sanders taking over many of the White House press briefings. So it's not completely out of nowhere for him to resign, but his reported reasoning is very interesting. Now, many are wondering who will take his place — and who will play the new press secretary on Saturday Night Live? I guess Melissa McCarthy could still do it, but it just won't be the same.
CBS News made the excellent point that Spicer's resignation is just the latest shakeup for both legal and communications staff at the White House. Trump's personal attorney Marc Kasowitz is out as well, as is Kasowitz' spokesman. But the reasoning for their departures is not known at this time.
With Spicer gone, who will take on the press secretary role, which is pretty crucial since the person who handles it takes on the role of spokesperson to the media for the executive branch of the government? Most of us likely can't even imagine what it's like to be the press secretary for the White House, but one person in particular may have a better idea and the experience needed to take over for Spicer — and that's Huckabee Sanders.
Heavy agreed that Huckabee Sanders is the most likely option to take over the job, as she's been regularly filling in for Spicer at the White House press briefings already. There have been rumors that she was going to be appointed to the role for weeks now, as she's filled in for Spicer more and more. The easiest transition would involve her simply stepping into the role permanently.
But there are other possibilities as well. Politico reported in June that Spicer and White House Chief of Staff Reince Priebus had reached out to Fox News contributor Laura Ingraham about the position, for example. The outlet also reported that Fox News host Kimberly Guilfoyle was previously considered for press secretary, but she's not interested and hasn't been interviewed for the role.
According to The Washington Post, Trump officials have also approached Geoff Morrell — who previously acted as the Pentagon press secretary for more than four years — and Scott Reed, a senior political strategist at the U.S. Chamber of Commerce, for the position of press secretary in recent weeks.
But the final choice for the next White House press secretary could be someone completely shocking, unexpected, and out-of-the-blue. You really never know with this administration. Forbes even suggested in June that Megyn Kelly should be considered for the job. But would an offer to join the Trump administration's communication team be enough to pull her away from her recent move to NBC?
We really don't know yet who will replace Sean Spicer as press secretary. Trump's White House is nothing if not unpredictable, but there are a few names being thrown around that we should take note of. We'll just have to wait and see who is appointed to the job next.