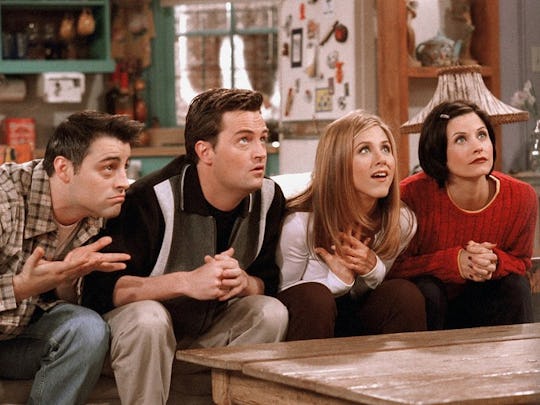 Warner Bros. Television
Who Will Return For The 'Friends' Reunion Special? It Better Be Everyone
Brace yourselves, because it is finally happening: the cast of Friends is reuniting on NBC as part of a two-hour special airing February 21, according to Entertainment Weekly. While the special might not specifically be just a Friends reunion (it is actually an event to honor the career of sitcom director James Burrows, who has worked on Cheers, Frasier, and Will & Grace, among others) all six cast members have signed on to participate, marking the first time they've reunited since the show went off the air. Exactly who will return for the Friends reunion is unclear, and there might be a few road bumps.
As exciting as all this sounds, it's still possible that the actors won't actually be together. According to The Hollywood Reporter, NBC chief Bob Greenblatt isn't necessarily holding his breath:
I shouldn't go into detail. I'm hoping that all six of them will be there in the same room at the same time. I don't know, logistically, if we can pull that off.
Womp, womp.
But, let's be honest, the fact that there's even a chance that fans will finally get to see Ross, Rachel, Joey, Monica, Chandler and Phoebe again together on TV means that they are definitely going to be tuning in — regardless of whether every cast member makes it. And even without the super-exciting Friends aspect, the show does sound pretty cool: it will look back at Burrows' achievement of directing 1,000 episodes of television for some of the network's most memorable shows. The broadcast will likely be similar to NBC's star-studded Saturday Night Live 40th Anniversary Special in 2015, which was a big ratings win.
But you know what will be an even bigger ratings win, NBC? Making this special an actual Friends reunion. To which fans will all lose their Friends-loving minds, probably like this:
The two-hour tribute to James Burrows will air Sunday, Feb. 21 on NBC at 9 p.m. Clean your apartment, go shopping, do whatever you've gotta do so that you can make it there.
Images: Warner Bros. Television; Giphy