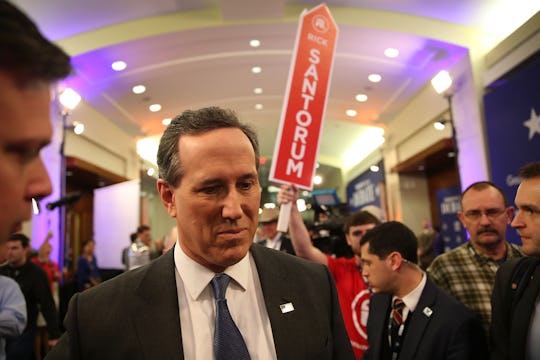 Joe Raedle/Getty Images
Who Will Rick Santorum Endorse? His Appearance On Fox News Could Give Us An Important Clue
Now that former Pennsylvania Sen. Rick Santorum has dropped out of the Republican presidential race, it's time to figure out who, out of the remaining candidates, Santorum will endorse. Given what the former candidate's own campaign staff have said in recent days, Santorum himself seemed to know that this day was coming. He even told the Des Moines Register after the results of the Iowa caucuses were released on Monday that he was going to "reassess" his bid. Update: On Wednesday night, Santorum told Fox News' Greta Van Susteren that he would be endorsing fellow candidate Marco Rubio for president. "He is the new generation and someone that can bring this country together — not just moderates and conservatives but young and old," Santorum said, calling Rubio a "born leader."
"We are going to spend a couple of days just thinking and praying, and figure out what we are going to do," Santorum said. "And [then] we will make a decision." Santorum's team is expected to make an official announcement on Wednesday night during Greta Van Susteren's show on Fox News.
While it's no surprise that Santorum is dropping out of the 2016 presidential race, it's also not very clear who he will endorse. An endorsement from Santorum could help certain remaining candidates, including Florida Sen. Marco Rubio, who did very well in Iowa on Monday night and told CNN's Dana Bash that he thinks Santorum is "fantastic."
Right now, every candidate in the GOP seems to be going after the evangelical vote, a group that that Santorum has long done well with. In fact, in 2012 he performed much better in Iowa because there was a less crowded field of candidates and he was really the only candidate vying for evangelicals. This year, Santorum had to share that love with Texas Sen. Ted Cruz, who ended up winning the Iowa caucuses.
Rubio could use an endorsement from Santorum to help him win over more devout voters. In January, he released a new campaign ad about salvation, looking to "nab the conservative voters who have gravitated toward other candidates," according to The Atlantic. But this is where it could get interesting.
After the Iowa debates last week, Santorum stopped by the Donald Trump event for veterans along with fellow former GOP candidate Mike Huckabee. Of course, that might have more to do with supporting veterans than supporting Trump. But both Santorum and Trump are scheduled to appear on Fox News tonight — and that could be very telling as well.
Trump has already received an endorsement from Sarah Palin. If uber conservative Santorum gets behind him, that would be like the Tea Party trifecta. Endorsing Trump would be a bold media move. But if he wants to try and run again someday, perhaps endorsing someone like Cruz or Marco Rubio would be the better choice.