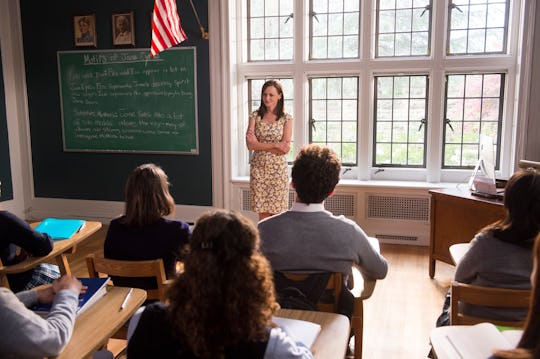 Neil Jacobs/Netflix
Who Will Rory End Up With In The 'Gilmore Girls' Revival? Everyone Has A Team
The resolution of Rory Gilmore's love life is one of the most pressing questions about the upcoming Netflix Gilmore Girls revival. Choosing a team (Dean, Logan, or Jess) has become a major thing since the show first went off the air, one of those preferences that can reveal whether or not you can consider yourself on the same page with someone else. Despite the debatable failings of the final years of the show, Rory riding off into the sunset by herself wasn't at all a bad ending for the character. Rory's ambitions were as important as her love life and she was going off to take advantage of a great opportunity. It didn't matter who she was with because Rory was doing well for herself. However, now that she's a little bit older and probably more settled in her career, it doesn't hurt to once again ask the question: Who will Rory end up with?
Each of Rory's ex-boyfriends is returning for the revival, so odds are good that one of them will be the guy she closes out the season with. While the cast of the show is trying to keep things under wraps, that doesn't meant there haven't been a fair amount of hints that could point towards who Rory ends up with. And even if the answer isn't definitive, one thing is for sure: it's not going to be Dean.
Dean is probably the least popular of Rory's exes thanks to his less than gracious exit, and it looks like his reappearance in the show will simply be to tie up loose ends. Actor David Sutcliffe, who plays Rory's dad Christopher, seemed to support that assertion when he had this to say about Dean: "I know they're not going to end up together, but Rory and Dean seem like a good couple."
That leaves Jess and Logan, two very different guys with very different things to offer Rory. Both Milo Ventimiglia and Matt Czuchry have made it clear how much Gilmore Girls means to them and how happy they are to be back. Czuchry has been spotted on set with Alexis Bledel and Gregg Henry, who plays Logan's father Mitchum, so the Huntzberger family definitely appears to be factoring into the new episodes. The presence of Logan's family makes it seem like there will be some depth to his appearance on the show, and it likely won't be a one-and-done scene like Jared Padalecki's. Considering Logan was last seen proposing marriage to Rory (and getting shot down), there's a really good chance he's still in the running as Rory's final guy.
And then there's Jess. Bustle pointed out that on-set footage showed Ventimiglia was filming during the "Fall" episode of the series, which will also be the last of the new episodes. If Jess is in Stars Hollow in the final episode, that could be a pretty good clue. It's not like Jess just hangs around town for the fun of it; if he returns, he probably has a pretty good reason. And if he's there at the very end, then he could very well be the person Rory ends up with.
Then there's the fact that series creator Amy Sherman-Palladino apparently said she was Team Jess during the cast's appearance at the Summer TCA. If ASP is rooting for Jess, then that's a pretty huge vote in his favor.