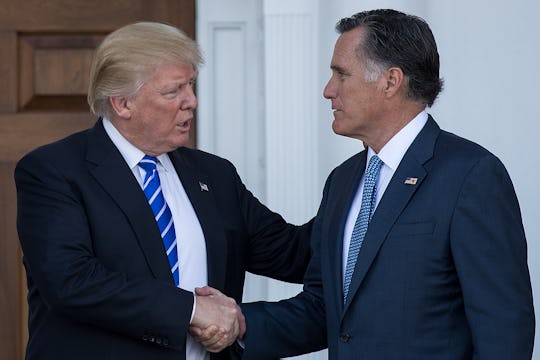 Drew Angerer/Getty Images News/Getty Images
Who Will Trump Pick For Secretary Of State? Transition Says More Candidates Now In The Run
President-elect Donald Trump is expanding his search for the next secretary of state. The frequent social media-user had previously revealed on his Twitter account that he narrowed down the list of potential candidates to four "finalists," making the secretary of state selection sound more like the final round of American Idol than a Cabinet pick. His senior advisor Kellyanne Conway told reporters in the Trump Tower lobby on Sunday that Trump has decided to speak with other potential candidates, as well. Now that more candidates have been added to the running, who will Trump pick for secretary of state? We're only seven weeks away from his inauguration, so the decision must be imminent.
Trump was previously known to be considering Gov. Mitt Romney, Gen. David Petraeus, Sen. Bob Corker, and Mayor Giuliani for the prominent Cabinet position. While Conway confirmed that the list had grown past these four contenders on Sunday, she remained vague about the president-elect's selection process. "This week we'll have additional interviews with other candidates for secretary of state and other cabinet positions and deputy Cabinet positions as well," Conway said of the ongoing search. When asked who they would be interviewing, she simply said they haven't released that information.
It's a bit strange that the transition team would suddenly announce they were expanding their search after the president-elect himself stated he had narrowed it down to four front runners. To be fair, though, Trump often Tweets grandiose statements that have no truth behind them. The announcement that Trump is looking for different options comes on the heels of Conway's public declaration that she does not support Mitt Romney as a candidate for the incoming administration's team. She told reporters, however, that the "list is expanding because there is not a finite list of finalists[...]. He will interview with additional candidates early this week." It was a perfect non-answer that did not explain or clarify why, exactly, the transition team is moving away from Romney, Guiliani, Corker, and Petraeus. Conway only added that "it's a big decision and nobody should rush through it."
Petraeus doesn't seem to be discouraged by the news. The New York Times reports that the former general and director of the CIA under President Obama made an appearance on ABC's This Week with George Stephanopoulos to earn some good will with the American people. Petraeus aimed to highlight his foreign policy experience from his time in the military, as well as from his time working abroad in the private sector. He also apologized for his mishandling of classified material while he was top general, which led him to plead guilty to a misdemeanor charge in 2015 and step down as CIA director. This will undoubtedly be his biggest obstacle on his journey to a potential secretary of state gig.
There has been no official comment from Romney or Giuliani about Trump's continuing search for secretary of state. Giuliani faithfully stood by Trump's side throughout the election, so it will be interest to see how he reacts when Trump finally names somebody to the Cabinet position, if it's not him. Romney, on the other hand, staunchly opposed Trump's candidacy, which may be exactly what's keeping him from being nominated.
Whichever candidate is eventually tapped to be the secretary of state, let's just hope they have more government experience than the president-elect — it's a massively important job, after all.