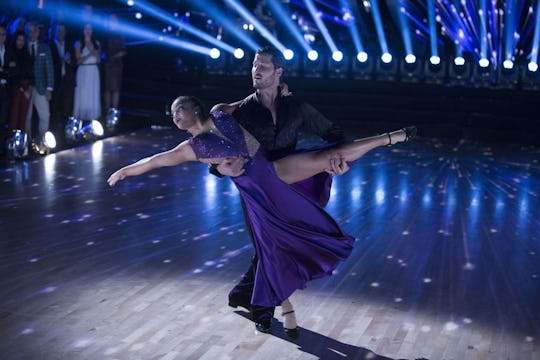 Eric McCandless/ABC
Who Will Win 'Dancing With The Stars'? The Season 23 Finale Will Be Competitive
The competition on Dancing With the Stars is heating way up, with only the very best dancers left to try and win that coveted Mirrorball trophy. Who will win Dancing With the Stars' Season 23 finale? Obviously, I am not Miss Cleo, so I can't say I know for sure, but I definitely have a guess, and her name rhymes with Shmaurie. This season has produced some surprisingly talented dancers, including NASCAR driver and all-American charmer James Hinchcliffe, as well as One Tree Hill star Jana Kramer. Either of these two might have had a fighting shot at the title if the producers of Dancing With the Stars hadn't brought in a ringer. It's not their fault and they're great dancers and everything, but let's be real. They're competing against an Olympic-freakin' gymnast. Sorry, guys, Laurie Hernandez has this one in the bag.
Throughout the competition, Laurie has stood head and shoulders above everyone else. (Not literally, of course, she's tiny). The quality of her dancing has, from the beginning, been at almost a professional level. Obviously, this makes a lot of sense. Her skill as a gymnast carries over very naturally to training as a dancer. She has the flexibility, the discipline, and god knows the strength of pros who have been dancing for years.
The one thing that she might have lost points for is if she wasn't able to translate the sheer physical power she displays in the gym to the more artistic and fluid movements of dance. Beautiful dancing does require a certain amount of acting and emotion which might have been Laurie's only hang up. But it turns out she is capable of totally handling whatever character or situation she's meant to embody, from her sassy Michael Jackson routine, to the childlike beauty of the Willy Wonka dance, and, of course, her rendition of a sexy murderous prisoner in "Cell Block Tango." This girl really can do no wrong.
And I haven't even gotten to how darn endearing she is. Laurie was nicknamed the "human emoji" because of her bubbly and expressive face. This is extremely fitting. She's like a bouncy ball of good vibes, happy faces, and energy. In fact, I've decided that I want her giggle to be my ringtone. Don't get me wrong, the other dancers are phenomenal as well. And like I said, if it wasn't for Laurie, this would be a much more nail-biting kind of competition. But as it stands, she's just to good, so, in my mind, the trophy is all but hers.