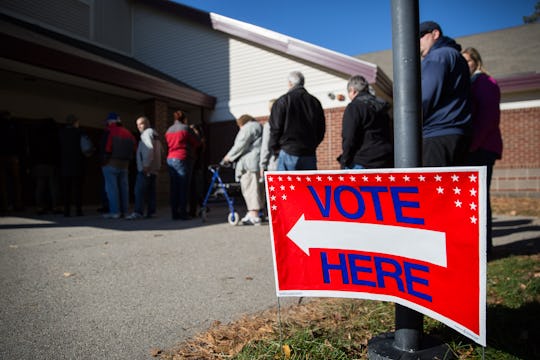 Kayana Szymczak/Getty Images News/Getty Images
Who Will Win Florida? The State Is Vital In The Presidential Race
For many Americans, election night is proving to be an anxiety-ridden time period. Most will be glad when it's all done with, one way or the other. For those who are comforted by staying updated on the latest polls, Florida has been an important state to watch. So who will win Florida? Clinton has a narrow lead according to the most recent polls, but this one's turning out to be a real nail-biter.
Florida is widely viewed as decisive for the election, in large part because the state has 29 electoral college votes. Not only that, but it's been a razor-edge swing state for the past several national elections. Back in 2012, President Obama won the state by only 0.9 percentage points. Infamously, in 2000, the Florida vote count was so close in the contest between former Vice President Al Gore and former president George W. Bush that several recounts became necessary, and the election was ultimately decided in Bush's favor by the U.S. Supreme Court.
In the days leading up to the election, the poll aggregation website FiveThirtyEight showed increasingly favorable odds for Democratic presidential nominee Hillary Clinton. With the election still a week out, the FiveThirtyEight projection has Republican presidential nominee Donald Trump winning by a very narrow margin, but after the FBI announced that their prior conclusion about Clinton's emails still held, Clinton's margins in Florida started looking better. By the eve of the election, Clinton was leading Florida by a two-point margin.
Polling data aside, political leaders and commentators are expressing optimism about Clinton's changes. On Tuesday night, Florida Sen. Bill Nelson told reporters that "I believe Hillary will win quite comfortably in Florida. So goes Florida, so goes the country." Nelson attributed Clinton's lead to Hispanic voters.
The Florida race will likely determine how early the election as a whole will be called, according to The New York Times. Polls close in most of the state at 7 p.m., and the results from Florida's early voters — who comprised as much as 65 percent of the vote — will be available at that time.
If Clinton's lead in the state is sizable enough, Florida's 29 Electoral College votes will very likely bring her to the 270 votes needed to win the election. According to The Times, the results from early voters in Florida "will be fairly representative of the eventual outcome: If Mrs. Clinton holds a comfortable lead, it will be hard for Mr. Trump to mount a comeback."
Another important swing state to watch is North Carolina, where Clinton likewise holds a small lead, according to most recent polling data. Polls in the state close at 7:30 p.m.