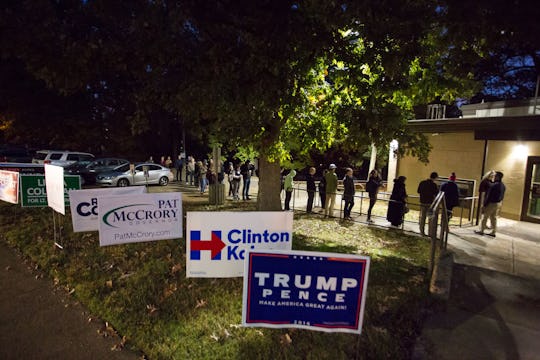 LOGAN CYRUS/AFP/Getty Images
Who Will Win North Carolina? The State Is Super Important
The 2016 presidential election is a very tight race. But when it comes down to the electoral votes that really decide a winner, there are just a few states that really, really matter. On Tuesday, it all comes down to who will win North Carolina, along with other battleground states like Pennsylvania, Florida, and even Arizona. Those states are essential because they hold a certain, necessary number of electoral votes and they're also usually split down the middle when it comes to Republican and Democratic voters. When you throw in the fact that there have been some problems with polling places in the state on Election Day, North Carolina might be the deciding state in this election.
North Carolina is a key state and according to exit polls early on Tuesday, Democratic nominee Hillary Clinton and Republican nominee Donald Trump are neck in neck (or a percentage point away from each other). If one candidate wins, they get just 15 electoral votes. That's not a lot — but winning North Carolina this year is a big indicator about how votes were cast. Minute by minute, the counts vary:
Here's the thing: early voting in North Carolina looked Clinton had an early win. But on Tuesday evening, CNN reported that Clinton's numbers were lagging compared to the 2008 or 2012 election, when the state was also a close call between Democratic and Republican candidates. Over the early voting period, over 1.3 million Democrats voted compared to 990,000 Republicans. But game day voters might have a chance to change the outcome of the state. As of early Tuesday night, it's too close to call.
The voting period in eight precincts was extended due to problems with voting machines. The time varies precinct by precinct from 20 minutes to a full hour and a half in Durham County. Luckily, the state's board of election asked for an extension early on Tuesday, which means that people who might have been discouraged from voting will get a chance to cast their ballot. According to Patrick Gannon, a spokesman for the North Carolina State Board of Elections, the extended voting times are out of an "abundance of caution," in case anyone felt their right to vote was impeded.
Republican voter turnout in North Carolina is the lowest since 1984, according to a local ABC News affiliate. It's not just about the Oval Office in North Carolina, either. The state is also voting on HB2, or the so-called "bathroom law." According to early counts, it looks like over 60 percent of North Carolina voters were in favor it.
North Carolina will be a nail biter for sure. And given the problems at the polls, it might be a state that will have to recount their votes if the election is called closely and a candidate wants to contest the results.