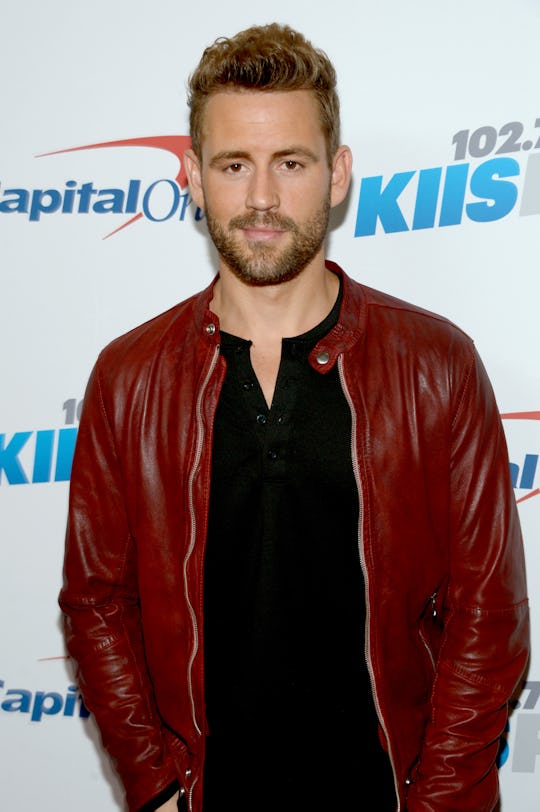 Matt Winkelmeyer/Getty Images Entertainment/Getty Images
Nick's 'Bachelor' Season Is Hard To Predict
After a series of surprising eliminations, Nick Viall's season of The Bachelor suddenly feels a lot closer to the end because so many ladies have gone home. Though the season began with 30 women who had packed up their sparkliest gowns and most fluttery false lashes to woo Nick over countless locales, now there are just six women remaining. With Nick whittling down the number of contestants so rapidly, will there even be anyone left to end up with him? Who wins Nick's season of The Bachelor?
Nick might seem a little beaten down by the process in Week 6, but he's not hesitating to eliminate women whether he's in the middle of a date or not. He's going for the gold — or in this case the gigantic diamond ring — and it doesn't matter who he has to eliminate to get there. Any of the women left on the show could be a perfect match for Nick, which is why they've all made it this far. Raven, Vanessa, Rachel, Danielle M., Corinne, and Kristina have all had moments with Nick that make it seem like there could be something serious there, but unfortunately social media isn't providing any clues about the season's outcome.
Contestants on The Bachelor are experts by now when it comes to keeping quiet about spoilers, especially Nick. He's had a lot of practice at staying mum until the episodes have finished airing. No one at ABC would want the ending spoiled before the big finale, so Nick's Instagram and Twitter are sorely lacking in hints. He's been busy promoting the show in Los Angeles and New York, but none of the remaining women are from either city, so that doesn't mean much in terms of clues. Nick has also posted pictures with several of the women, some of whom have already been eliminated like Alexis, so once again things remain unclear.
Rachel earned the first impression rose and her dates with Nick have always seemed particularly natural, with Rachel open to sharing her feelings and Nick open to hearing about them. Their connection definitely makes her a frontrunner, but the same could be said for Raven and Vanessa. Raven fit right in with Nick's family during one of their dates, which is definitely important. And Nick kissed Vanessa right after she threw up from the zerio gravity date, which means he must really like her.
Corinne has been a controversial contestant all season long, but Nick always defends her and sees her side of things, in part because he has been a controversial contestant himself in the past. Their shared understanding could give Corinne an edge. Danielle M. is from Nick's hometown, which gives them an easy point of connection, and sharing the story of her fiancé's death strengthened her growing bond with Nick. He also appreciated it when Kristina opened up about her past, and her confident personality definitely makes her seem like Nick's type.
Nick might have eliminated a lot of contestants at once, but all of the women left on the show genuinely seem like people he could end up engaged to. It makes the show more interesting because any outcome seems possible, but it also makes it harder to predict how things will go.
Who knows. Maybe after all that joint Quantico promoting, Nick ran off with Priyanka Chopra instead. It would definitely be a twist.