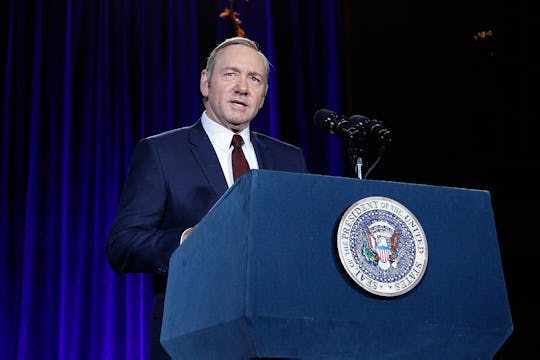 Paul Morigi/Getty Images Entertainment/Getty Images
Who Wins The 2016 'House Of Cards' Election? It's A Close Race
Given the state of the actual primary for the 2016 election, the presidential race on House of Cards seems super tame, for once. But who wins the 2016 election on House of Cards' fourth season? We don't actually get to find out, so if that's fueling your binge, find something else to love about the season, like Tom and Claire, if I may make a suggestion. Or waiting for William Conway, played by Joel Kinnaman, to slip into his The Killing accent by mistake or something. The stakes are just as high in the Netflix election but they really drag it out for the entire season. It's the longest primary process ever, it seems, since the season picks up the same day as the New Hampshire primary that ended season 3. Of course, building up drama and tension is what the series is all about, but come on.
Does Frank Underwood win or not? It's sort of excruciating. Unfortunately though, it doesn't look very good for the Underwoods. Frank's going to have pull out some Season One-level evil moves if he's going to be able to beat Conway, who plays the governor of New York. Conway is young, a veteran, and has some very Republican views on gun reform and foreign policy that are totally believable.
And it could ultimately get him elected if House of Cards world is anything like the real one. There are so many other forces at work when it comes to the House of Cards election. There's the Pollyhop scandal,which Conway handled like a pro by streaming an interview and invitation to America to snoop through his personal life. Transperancy and a war veteran? Now we're talking. It's very close to real life.
But eventually Claire could still take her husband down. Urging him to go to war to solve the hostage crisis and win people's hearts (or not, as it were) could be a big, fat mistake. In the season finale, Conway seems a little nervous about his chances of winning since Frank leaked that he interfered with the House Intelligence Committee. But there's bad press for Francis, too: When things go wrong over seas and terrorists are involved, leaning more towards a war veteran is only normal for American voters. It happens.
By "creating terror" at the end of the season, Frank could be sealing his fate. How can he be sure Americans won't want a change from the guy who got them into such a mess? The worst part of the whole thing? We have to wait an entire year to find out what's coming next. Hurry up, Netflix.