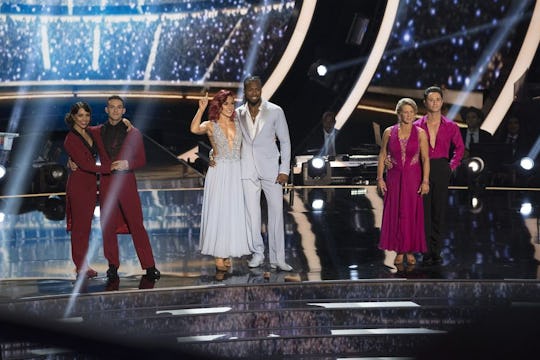 Byron Cohen/ABC
This Figure Skater Just Won 'Dancing With The Stars' Season 26
After an incredibly competitive season, Dancing With The Stars: Athletes has come to an end and the winner has been chosen. So who won Dancing with the Stars Season 26? Olympic figure skater Adam Rippon, and his partner, Jenna Johnson, walked away with the Mirrorball trophy.
The condensed athletes season of DWTS flew by in only four weeks, but it was a season that stirred a lot of buzz and kept people watching week after week. At the start of the season, there were 10 athletes competing for the Mirrorball trophy, but going into the Monday, May 21 finale, only three athletes and their partners remained standing — or dancing, if you will. The final three competitors were Olympic figure skater, Tonya Harding, with her partner, Sasha Farber, NFL player Josh Norman with Sharna Burgess, and, of course, Rippon and Johnson.
Rippon and Johnson were the front runners for most of the season, wowing the judges with every single one of their performances, but Harding and Norman were also incredible. Each athlete brought their own individual personalities to their dance moves, and they all had the competitive drive to win. It's what made this season so fun to watch! Everyone put everything they had into each one of their dances, and it's why all three of the finalists got incredibly high scores for the last two dances during the finale. They all nearly hit the finale perfect score of 60, and each of their scores were well deserved.
In the end though, it was Rippon and Johnson who got the votes and went on to claim victory. For Rippon, this is a great follow up to the bronze medal he won earlier this year at the Winter Olympics. But for Johnson especially, this was a very special moment. Although Johnson has been dancing on DWTS for a number of seasons now, this is the first time she's competed as a pro. Her success during her first season as a competitor has made a number of fans take to social media and call for her to become a permanent pro on the upcoming regular seasons of DWTS. There's been no word yet if that will actually happen, but her win definitely makes a good case for it. We're rooting for you, Jenna!
Additionally, this win puts Johnson one step closer to having just as many Mirrorball trophies as her boyfriend, Val Chmerkovskiy, who has won the dancing competition twice so far. Though he didn't compete during the athletes season, he's been showing his support for Johnson, and even made sure to be there in person for the show's premiere.
Although most people are excited that Rippon and Johnson won, others felt that both Harding and Norman had better final performances, and it seemed like the judges may have agreed. Carrie Ann Inaba expressed her disappoint with Rippon and Johnson's freestyle dance at the end, stating that they'd done much better performances over the course of the season than what they did with their freestyle. That said, she still gave them a nine out of ten. Still, there were a number of viewers who were disappointed by this outcome, but for the most part a lot of people seemed happy with the results, or at least weren't all that shocked when Rippon and Johnson won.
The one thing almost everyone at home could agree on though was that this season was much too short. Fans wanted to see more dancing from each of these competitors, and the fact that the season was only four weeks left them craving for more. Thankfully, it seems that the next season of DWTS, which will be airing this fall, will be back to its regular length. Even so, fans are not looking forward to the wait.