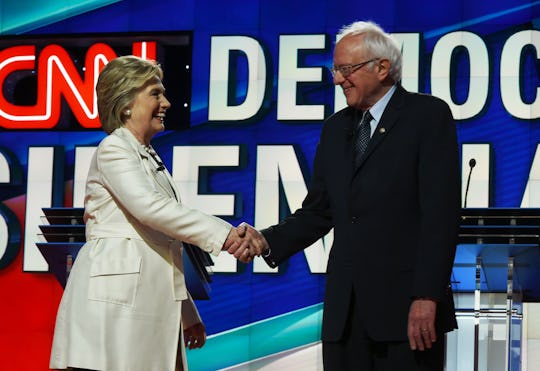 JEWEL SAMAD/AFP/Getty Images
Who Won The Democratic Debate In Brooklyn? One Candidate Barely Came Out Ahead
Last night's Democratic Debate in Brooklyn was the most tense — and the most fierce — yet. The two remaining presidential candidates spoke in the Duggal Greenhouse in Brooklyn, and their supporters were out in force. Between speeches, the hisses, boos, and cheers were loud and clear during the live event. As the gap between their primary numbers has gotten smaller, the Democratic candidates have shown more animosity towards each other, as have their supporters. Former Secretary of State Hillary Clinton has come to symbolize a pragmatic, all-business liberalism, while Vermont Sen. Bernie Sanders has taken up the charge for a more radical, upending, democratic socialism. Both had their moments last night, but who won the Democratic Debate in Brooklyn?
Aside from winning, the two candidates had very different goals for the debate. Clinton has still had trouble seeming "likable" and appealing to younger voters. She needed to inspire not only confidence, but love and admiration. Sanders, who has those things from his supporters, needed to affirm that he is the candidate he can actually get things done on the policy side. Lately he has come under attack for comments about gun control, race relations, and "Democratic whores," and he needed to show that he is not out of touch, but rather is plugged in, aware, and well-rounded. He also needed to speak well about foreign policy, which, thus far, has not been his strong suit. This debate is of the utmost importance to the viability of both campaigns. New York's primary is on Tuesday, and capturing those precious delegates would keep Sanders competitive or would secure Clinton's lead. So, all that said, who not only achieved their goals but came out with the upper hand?
Sanders did very well both playing to his strengths and showing his knowledge of international relations. He spoke about the economy (his wheelhouse), and had a nice run on the offensive. He asked Clinton to clarify her support of the Iraq war, which shook her, and granted him some rousing hoots from the audience. Despite some gaffes, he was able to refute nearly every point and spoke with confidence.
However, Clinton held her own. She launched her own attack against Sanders, scrutinizing his voting record for gun control. He stammered a bit when explaining his history with gun control, citing a need to support small gun shops, and sidestepped a question about apologizing to the families of Sandy Hook victims. In a glorious moment for Clinton, she reaffirmed her dedication to women's issues, criticized the Senate, and asked why reproductive rights have been such a small issue so far in this primary. The crowd went wild. Her theme for the evening was that recognizing a problem is one thing; doing something about it is another. She implied that Sanders is great at recognizing problems, but he falls short when it comes to implementation. The latter, she affirmed, is her strength. And that might just be where she edged ahead of Sanders during the debate.
The tone of this debate was much more raucous than past exchanges between these two candidates (but still more civil than GOP debates). That may be because Sanders has posed more of a threat that before. While he was able to show his versatility and knowledge not only of domestic but of foreign policy, it did not feel like enough. He is still trailing Clinton and needed a very strong showing in this debate. Clinton, on the other hand, avoided blunders, missteps, and defended herself against Sanders' accusations well. She seemed agile and, for better or for worse, deeply involved in global politics. She put women's issues back on the agenda, which will go a long way in winning over undecided voters. In essence, she defended her lead. But, if this primary race has taught us any lessons, it's to retain a healthy skepticism. Sanders' supporters are steadfast and growing in number; if they are able to mobilize for Tuesday's primary this my become a very tight race.