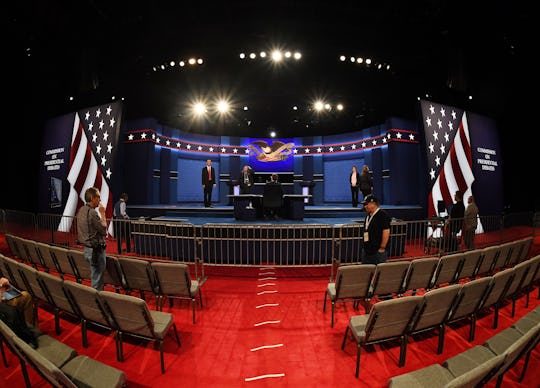 MARK RALSTON/AFP/Getty Images
Who Won The Final Presidential Debate? The Candidates' Closing Statements Said It All
The final presidential debate, which took place less than 20 days before the presidential election, capped a tense string of events for both candidates. Perhaps anticipating his own downfall come Nov. 8, Republican nominee Donald Trump hinted at rigged elections while facing the fallout from decades of comments about women. On her end, Democratic candidate Hillary Clinton was up against thousands of hacked emails posted on WikiLeaks detailing behind-the-scenes campaign details. But when it came down to it and the candidates took the stage in Las Vegas, who won the final presidential debate?
The answer, of course, is up to interpretation. For the final debate, moderator and Fox News anchor Chris Wallace lobbed the candidates questions on debt, the Supreme Court, immigration, the economy, foreign conflicts, and each nominee's fitness to be president. Trump, unsurprisingly, has declared his own victory after each and every debate so far, while most news outlets have pointed to Clinton as the clear victor. And a CNN poll following the debate pointed to a Clinton win as well — 52 percent said the first female presidential candidate was the victor, while 39% claimed Trump won.
Indeed, when you take a look at how the debate played out, Clinton seems like the winner of the third and final debate. Clinton approached new policy questions in her usual confident and collected manner, while Trump — who declared himself freed from the "shackles" of the Republican establishment earlier this month — reiterated his hardline approach to immigration, foreign policy, and women's reproductive rights. In their closing statements, Clinton outlined specific policies she would pursue, while Trump said he would "make America great again" and tried to attack Clinton's views.
In all fairness, both candidates had positives on their side leading up to the final debate, of course. Clinton was leading, with a RealClearPolitics average showing her polling 6.6 points ahead of Trump. Trump, of course, had a renewed attack to approach Clinton with, since recent WikiLeaks emails revealed the Clinton campaign's views of Bernie Sanders, foreign lobbyists' donations, and their scripted responses to Clinton's email server scandal.
Different polls will likely show different winners depending on who they ask, which makes sense — ultimately, every debate viewer will have to come to their own conclusion on who clinched the final showdown. And despite the varied opinions that will spill out from the public after the debate, there really only will be one victor: The real winner, after all, will be revealed on Nov. 8, when Americans across the country will vote for whoever they see as the best person fit for the presidency.