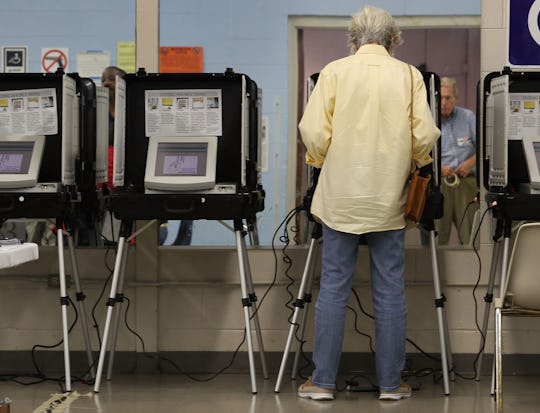 Joe Raedle/Getty Images News/Getty Images
No One Came Out On Top In Georgia's 6th District
All eyes were on Georgia yesterday, when voters in three counties headed to the polls to decide who would fill the 6th Congressional District seat in the House of Representatives. The role was left vacant after former Georgia Rep. Tom Price left his post to serve as the Secretary of Health and Human Services under President Donald Trump, but after a whopping 37 years of having a Republican representative in Georgia 6, it actually seemed like a Democrat might actually win on Tuesday night. Who won the Georgia special election? Thanks to the nature of the election itself, the short answer is, well, nobody — at least not yet.
According to CNN, the election was a so-called "jungle primary," where all eligible candidates, regardless of party affiliation, ran against one another. In order to win, one of them would need to nab a majority of the votes, but although one candidate came close, they all ultimately fell short. The bad news for Trump and the GOP? That one candidate was Democrat Jon Ossoff, a 30-year-old political newcomer whose popularity and impressive fundraising effort put him in the surprising position to possibly "flip the 6th" to Democrat, after decades of it being a Republican strong-hold (in 2016, for example, Price was re-elected with nearly 62 percent of the vote). With 48.1 percent of the vote, Ossoff narrowly missed out on a majority Tuesday — meaning that now, he'll be going head-to-head with Republican Karen Handel in June in a run-off election.
The fact that Ossoff failed to take the seat on Tuesday was likely a big disappointment for him and his supporters, but given that the election itself held a great deal of significance beyond simply who won or lost, his close-but-not-quite result is still a pretty impressive — and important — achievement. That's because more than just being a regional election, the Georgia special election also unofficially served as a political barometer following the presidential election in November — and in some ways, was a kind of referendum on Trump himself. According to FiveThirtyEight, in addition to Price's wide margin in 2016, Mitt Romney beat President Barack Obama by 23 percentage points during the presidential election in 2012. Yet, when Trump went up against former Secretary of State Hillary Clinton in November, he won the district by only one point, according to USA Today.
In other words? A Democrat win in Tuesday's election in what is traditionally a very red district seemed like it would further cement the reality of Trump's growing unpopularity among voters. That's presumably why Ossoff's spirits remained high Tuesday, despite not actually winning. According to The Independent, he told his supporters that the election was "already a victory for the ages," and that, just by coming so close to taking the seat, Democrats had "defied the odds" and "shattered expectations."
And that certainly appears to be the case. In addition to garnering national attention, Ossoff — a candidate whose literal campaign slogan was "Make Trump Furious" according to Reuters — also became the target of a slew of tweets by the president, in an attempt to draw support away from him. In the lead up to the election, Trump called Ossoff a "super liberal democrat" who wants to "protect criminals, allow illegal immigration and raise taxes," and later claimed he'd be "a disaster in Congress," and that he was "VERY weak on crime and illegal immigration." But while many took those tweets as an indication that the President was feeling uneasy about the potential embarrassment of having a Democrat take the seat, Trump himself appeared to take credit for Ossoff's loss in a follow-up tweet Tuesday night.
According to The Guardian, Trump called the election outcome a "BIG 'R' win," which occurred "despite major outside money, FAKE media support and eleven Republican candidates." And though Ossoff's popularity seems in many ways a direct result of how much voters actually dislike the president, Trump also tweeted that he was "glad to be of help!" to the GOP by speaking out against the Democratic candidate — suggesting, it seems, that he was the one that stood in Ossoff's way of winning.
So what's next for the Georgia election? On June 20, voters will return to the polls to choose, once and for all, between Ossoff and Handel. The good news for Ossoff is that Handel only managed to nab 19.8 percent of the vote Tuesday night, according to The Independent, but the bad news is that the runoff is still expected to be a very tight race. That's because Republican voters in the district will likely focus their support in favor of Handel in June, so in order to win, Ossoff will have to continue to shore up as much support as possible.
The election results may not be what the Democrats were hoping for, but it's clear that they are also very clearly still in the game. And if Ossoff can indeed pull off a win in June, it will be incredibly encouraging for the Democrats' attempts to win back the House. If not though, the Georgia election at least appears to reinforce the impression that Americans are very divided — and also pretty unhappy. And that as much as Trump likes to talk about how well-loved he is, the reality might be quite different.