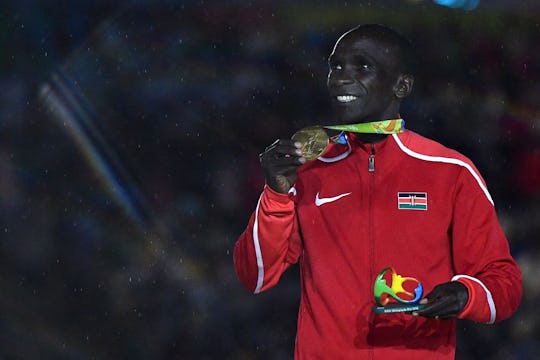 LEON NEAL/AFP/Getty Images
Who Won The Men's Marathon Gold Medal? It Was An Emotional Night For Eliud Kipchoge
One of the most emotional medal ceremonies of the Rio Olympics featured a much-deserved award. 31-year-old Kenyan marathon runner Eliud Kipchoge, who won the men's marathon gold medal, was honored at the closing ceremonies of the 2016 Olympics. As the Kenyan national anthem echoed through Maracanã stadium, Kipchoge remained stoic. Completely still, he watched his flag wave. To his left stood silver medal finisher Feyisa Lilesa of Ethiopia. To his right was American Galen Rupp. Kipchoge won the race with a time of 2 hours 8 minutes 44 seconds.
The Olympic men's marathon is the only event that awards its medals at the closing ceremony. This tradition of doling out medals at the end of the games used to be customary for all sports, but now it's reserved for this event alone. The winner of the women's marathon (who had a traditional, post-race awards ceremony) was a Kenyan as well. Kipchoge said that this sweep will make their country "very happy," as "this is history, the first time the women and the men [both] win." His fellow winner, Jemima Sumgong, was the first Kenyan woman even to win a first place medal, finishing the 26.2 mile race in 2 hours, 24 minutes, 4 seconds.
Seeing as he beat the silver medalist by over a minute, he has definitely done his country proud. In his previous Olympic games, Kipchoge had won a bronze and a silver medal, making this gold all that much sweeter. His bronze medal came in 2004 and his silver was in 2008, both in the 5,000 meter races and not in the marathon. In 2012, Kipochoge was excluded from Kenya's team altogether. This was a blessing in disguise as it encouraged him to train for the marathon. As for this most recent race, "It wasn't really easy," he admitted, according to The Guardian, "but I felt comfortable. The five or so kilometers I was alone, after my breakaway at 36km, was when my mind relaxed."
Kipochoge was definitely favored to win. Just four months ago, he nearly broke the world record for the marathon, coming in at an impossibly fast 2:03.05—just eight seconds faster and he would have made absolute history. He hasn't ruled out the possibility of being the fastest ever. In fact, it's his ultimate goal: "I am a man that believes in planning and preparation," Kipochoge said. "I'm going back to Kenya and will sit down with my coach and plan for the future."
All eyes will be on Kipochoge in Tokyo; 2020 might yield the fastest marathon time that we've seen yet.