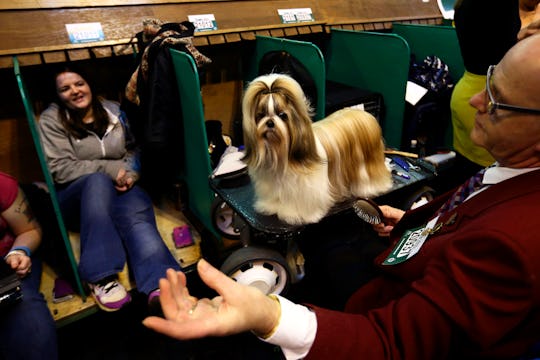 Who Won The National Dog Show? Charlie The Skye Terrier, And He Is So Adorable — PHOTOS
While football, turkey, and shameless overindulgence tends to take center stage, Thanksgiving Day also means the beloved American Kennel Club's National Dog Show Sponsored by Purina is back. The 14-year-old competition is nothing but a cute-fest of adorable dogs who parade around their hyper-primped selves in the hopes of winning the coveted Best In Show. This year's winner definitely did not disappoint. Internet, meet the devastatingly charming Charlie, a skye terrier and grand champion of... being a dog this year? GRAND CHAMPION OF BEING A DOG THIS YEAR!
Charlie — whose formal name is GCH CH Cragsmoor Good Time Charlie — is a four-and-a-half-year-old skye terrier from Ocala, Florida. Charlie beat out 1,700 other dogs to win his 79th Best In Show title of his dog-eat-dog career. (He also has over 200 first-place showings so, yeah, this dog doesn't mess around.)
While the competition was rather stiff — Charlie went up against an Ascob Cocker Spaniel, a Newfoundland, a bearded collie, among others — it didn't take the judges very long to realize that Charlie was something special. Co-Host John O'Hurley told People, "The moment he entered the ring, I turned to David and said, 'Wow! Heads and tails above the competition.'"
And while Charlie has clearly earned congratulations and praise, I can't help but think of all the other fabulous and wonderful dogs who don't compete in the National Dog Show, but totally should and could easily take home the grand prize. Sure, Charlie is adorable and there's no doubt about it, but these 10 dogs are my every day winners because JUST LOOK AT THEM.