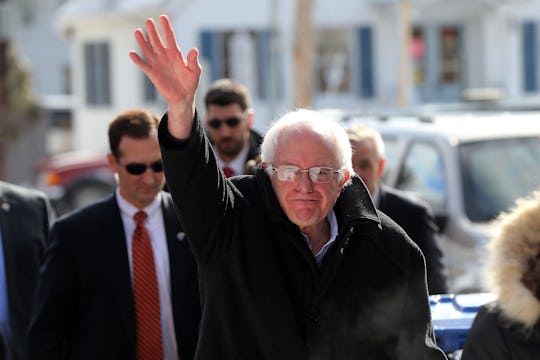 Spencer Platt/Getty Images
Who Won The New Hampshire Primary? It's Pretty Incredible
After months of run-up and speculation, Tuesday, February 9 was finally decision day in New Hampshire — and who won the New Hampshire primary is pretty clear cut. As widely predicted in the weeks leading up to the race, the big winners of the night were Vermont Sen. Bernie Sanders and billionaire businessman Donald Trump. No surprises there, but the wide chasm between the first place winners and the other candidates could signal interesting times ahead in the nominating season.
After Iowa, the New Hampshire primaries are the second in the series of crucial contests during the nominating season meant to propel the major contenders and signal the end of the line for the not-so-major candidates. Historically, the New Hampshire primaries have been worth watching because of the high number of independent voters in the state. At more than 400,000 people, undeclared and uncommitted voters make up the New Hampshire's largest voting group, according to CNN's live broadcast.
It has been tough to predict a clear pattern among such a large percentage of New Hampshire voters, some 4 in 10 according to BBC News. Nearly all of the state's early exit polls predicted wins for Trump and Sanders, but after that, the outcome was pretty much anybody's guess.
And so, to try to claim as many of those undecideds as possible, Trump's rivals — former Florida Gov. Jeb Bush, Texas Sen. Ted Cruz, Florida Sen. Marco Rubio, New Jersey Gov. Chris Christie, former neurosurgeon Ben Carson, and former Ohio Gov. John Kasich — had spent the final days of the race crisscrossing New Hampshire in order to get a clear shot at second place.
Interestingly, former Secretary of State Hillary Clinton was in a similar position heading into Tuesday. With all polls giving the Vermont senator a clear win, the goal for the Clinton campaign in New Hampshire was to make his margin of victory as narrow as possible, according to Politico. If Sanders had won by only single digits, it would signal that his campaign was beatable by Clinton as the establishment candidate. But the blowout victory — 56 percent to Clinton's 42 — could threaten Clinton's standings heading into the next primary races in South Carolina and Nevada.
For now, the primary race is still heating up. But it remains to be seen just how much of an effect Tuesday's Granite State victories and losses will have in the long haul.