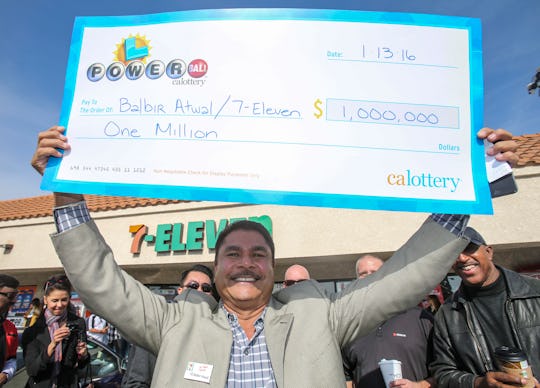 Ringo H.W. Chiu/Getty
Who Won The Powerball Lottery? A Few People, & Stores, Are Splitting The Jackpot
Powerball mania has come and gone following Wednesday's record $1.6 billion draw, and according to USA Today, three winning Powerball tickets were sold in three states: Tennessee, California, and Florida. So, just who won the Powerball? The jackpot will be split among the three winners, which means no one will actually be becoming an instant billionaire, although they likely won't be complaining — one third of the jackpot is about $533 million before taxes, or $327.8 million each before taxes if they were to opt for a lump sum. (Um, yeah, that'll do.)
The identities of the big winners have not been officially announced, but a Tennessee family came forward on the Today show Friday morning with a ticket that is potentially one of the three big winners. John and Lisa Robinson reportedly purchased four tickets from Naifeh's grocery store in Munford, Tennessee, and were shocked to find that one of them matched the winning numbers exactly, John Robinson told Today:
Actually, [I was] a little scared because I didn't know exactly what to do. I knew that I wanted to get an accountant. I knew that I wanted to get a lawyer and try to follow the procedures that they tell you to follow. Now I'll be nervous because everybody knows.
The Robinsons' ticket has yet to be confirmed by lottery officials, but if it is a winner, the family will be in for a huge windfall. But even without one of the three winning tickets, plenty of others are celebrating the Powerball results today, including the owners of the stores that sold the winning tickets. Balbir Atwal, a 7-11 franchisee in Chino Hills, California, is set to receive a cool $1 million from the Powerball lottery, according to Reuters, while Dana Naifeh, owner of Naifeh's grocery store in Munford, Tennessee, will get $25,000, according to ABC News. The third retailer, a Publix in Melbourne, Florida, will receive $100,000. And approximately 26 million others won smaller Powerball payouts, according to USA Today, with eight $2 million winners, and 73 $1 million winners.
There is, however, at least one person today who is definitely not celebrating: an unnamed 56-year-old nurse from Pomona, California, was blown away after receiving a message from her son showing that her ticket matched all six Powerball numbers. According to the New York Daily News, the nursing home where she works broke out in celebration — only to learn a few hours later that the woman had been pranked by her son.
"It's a joke. It's a prank...by my brother," the 56-year-old nurse's daughter Jennifer told the Daily News Thursday. (Yikes!)
Now that the record-breaking Powerball jackpot has been won, the prize has gotten much smaller: the next Powerball winner will only net a paltry $40 million. But the good news is, the odds will be a lot better than one in 292 million.
Image: Ringo H.W. Chiu/Getty