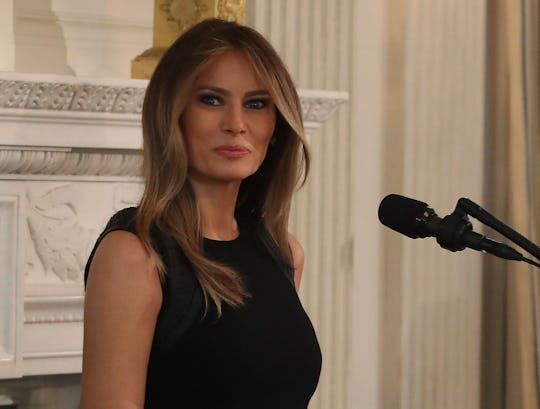 Mark Wilson/Getty Images News/Getty Images
Who Would Pay For Melania To Stay In New York?
An online petition demanding First Lady Melania Trump and her son, Barron, move to Washington, D.C. or use her own money to pay for their New York City residency has taken off since it was published to Change.org earlier this month. As of Thursday, the petition surpassed 260,000 signatures — a little more than 37,000 names shy of the needed 300,000 before it's delivered to Sens. Elizabeth Warren and Bernie Sanders. The response to the petition so far is not surprising; taxpayers, after all, are tired of footing the bill for Melania's decision to live in the city. But who would pay for Melania to stay in New York if she visits or returns after moving to the White House? Taxpayers are still on the hook.
According to the Congressional Research Service, the federal government pays for all official trips taken by the president, vice president, and first lady. That means taxpayer money is used on travel, food, lodging, car rentals, and "other incidental expenses." The government also pays travel expenses for campaign-related and unofficial trips, though those costs have to be reimbursed by the traveler. The president, vice president, first lady, or any other party involved in the campaign-related or unofficial trip would also have to pay for their own meals and hotel rooms.
Although one may be inclined to label vacations as "unofficial" trips, they are in fact not. According to CRS, vacations taken by the president and first lady — like all those weekend excursions to Mar-a-Lago President Donald Trump is so fond of — fall under the "official trip" category. And that means the federal government pays the cost.
In other words: taxpayers would still fund Melania's trips if she choose to visit New York or if she moves back to Trump Tower in Midtown Manhattan.
Taxpayers also foot the bill for trips taken by the first children. According to the Aspen Times, first daughter Ivanka Trump and her family, along with her two brothers, Eric and Donald Jr., took a ski holiday in Colorado last week. That trip netted the federal government more than $12,000; the Aspen Times reported that the taxpayer-funded U.S. Secret Service signed a contract with the Aspen Valley Ski and Snowboard Club for rental ski equipment and clothing for the Trump family to use during the trip.
In the past, President Donald Trump has criticized former President Barack Obama for the number of vacations Obama has taken and for "wasting" taxpayer money. But President Trump is actually on track to exceed what Obama has spent during the eight years of his presidency. According to International Business Times, projections based on estimated costs for his Mar-a-Lago trips predict that Trump will cost taxpayers $10 million per month, $120 million per year, and $480 million per term. Obama, on the other hand, cost taxpayers $48 million from one term.
Who's wasting taxpayer money, now?