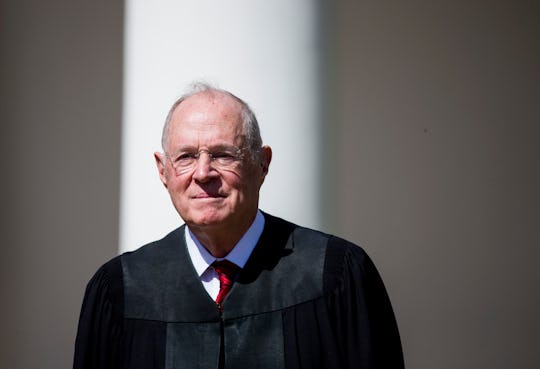 Eric Thayer/Getty Images News/Getty Images
Who Would Replace Justice Anthony Kennedy?
As the U.S. Supreme Court wraps its judicial schedule for its current session, the buzz around Washington, D.C., is that 80-year-old Justice Anthony Kennedy may retire at the end of this session. With the late Justice Antonin Scalia's seat filled by Neil Gorsuch in April, Kennedy's retirement would require President Donald Trump to make his second SCOTUS pick just six months into his presidency. Who would replace Justice Anthony Kennedy? Whoever takes Kennedy's seat, she or he would have quite the judge's robes to fill: Kennedy was appointed by President Ronald Reagan in 1988 as associate justice to the Supreme Court following the retirement of Justice Lewis Powell. Kennedy has not released a statement regarding his retirement rumors, so for now, that's all they are. His office did not respond to Romper's request for comment.
As a Reagan appointee, Justice Kennedy has long been considered a conservative, albeit a moderate one. Kennedy has written SCOTUS majority opinions for a number of significant and controversial cases, including the Citizens United case, Bush v. Gore and the results of the 2000 presidential election, and Planned Parenthood v. Casey, the case that paved that landmark precedent regarding a woman's "undue burden" to seek an abortion that was used again in the Whole Women's Health Texas abortion case in 2016.
Rumors of Justice Kennedy's retirement have swirled since Trump took office in January, but with this current Supreme Court session nearly at an end, these rumors have intensified, putting progressives on edge about the potential appointment of a more conservative justice to fill Kennedy's seat. Here are five possible SCOTUS picks.
Judge Thomas Hardiman
Thomas Hardiman, a federal judge on the U.S. 3rd Circuit Court of Appeals, was one of President Trump's SCOTUS short list picks to fill Scalia's seat. Trump ultimately nominated federal judge Neil Gorsuch. Hardiman has supported broad use of Second Amendment rights and he sits on the same bench as Trump's sister, Judge Maryanne Trump Barry — which could make his nomination a bit fraught.
Judge Joan Larsen
If nominated and confirmed, Michigan Supreme Court Judge Joan Larsen would become only the fourth woman to ever sit on the SCOTUS bench in its 228-year history. Larsen was a clerk for Justice Antonin Scalia.
Judge William H. Pryor
Judge William Pryor was also on Trump's SCOTUS short list, if not one of Trump's more controversial candidates. Pryor is a federal judge on the U.S. 11th Circuit Court of Appeals, whose nomination by President George W. Bush in 2003 was met with much opposition; Pryor only got to the bench by way of a recess appointment when he was initially blocked by Senate Democrats. Pryor has called Roe v. Wade "the worst abomination of constitutional law in our history," according to The Washington Post.
Judge Don Willett
Judge Don Willett, of the Texas Supreme Court, is best known for being Twitter's most outspoken judge, having become a bit of a social media celebrity in his own right. Imagine how cases before SCOTUS could play out with Willett and Trump tweeting at each other.
Judge Merrick Garland
Poor Judge Merrick Garland — the bridesmaid of SCOTUS, but never the bride. After Scalia's death, Garland was nominated by President Obama. And for a first in the history of Supreme Court confirmations, Garland was never granted a confirmation hearing by the Senate, waiting instead for Obama to leave office and giving Trump's pick, Gorsuch, a hearing instead. Garland is probably the longest shot of them all at filling Kennedy's seat, but if Trump were looking for a moderate conservative, he'd find it in Garland.
And of course, all of these possible SCOTUS picks are speculation, given that Kennedy has not officially announced his retirement, as much as the rumor looms over Washington right now. For now, it's business as usual for the highest court in the land.