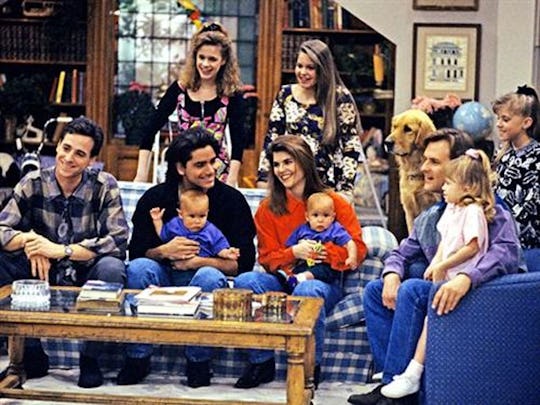 Who Wrote The Original 'Full House' Theme Song? The Song Has Been Remade For 'Fuller House'
With the Full House spin-off, Fuller House, just around the corner, fans are revisiting the show's golden days. The series spanned from 1987 to 1995, and in the two decades since, fans held onto the hope of a spinoff show — a dream come true, now that Netflix announced Fuller House, whose first season becomes available Feb. 26. So, before fans throw that Full House reunion party next month with their '90s friends, they should make sure they have their trivia in order. Most importantly, who wrote the original Full House theme song? The Full House theme song is actually "Everywhere You Look," which was co-written by Jesse Frederick and Bennett Salvay.
Frederick also performed the song, and he and Salvay were behind a number of earworm-y theme songs for TV shows of the '90s. POPSUGAR reported that Frederick was the mastermind behind the opening riffs for Family Matters, Perfect Strangers, and Step by Step, as well, which explains why they were all so catchy. "Everywhere You Look" was written specifically for Full House — similar to the way "I'll Be There For You" was written for Friends later on — which makes it something of an anthem for the series.
Actually, in a Full House reunion for show creator Jeff Franklin's birthday last year, the crew sang along to "Everywhere You Look" on stage. At that point, the Fuller House remake was at its "Will they, won't they?" stage, but now that the show is confirmed and coming out in February, the karaoke video is now just another way to get hyped up for Fuller House's Netflix release.
The reboot is actually shaking things up with the Full House theme song — but don't worry, things won't be changed too much. "Everywhere You Look" will remain the series opener, but this time, vocals are sung by Carly Rae Jepsen, who's well known for "Call Me, Maybe." According to The Verge, she and producer Butch Walker worked on the track together to give the song a revamped pop vibe for 2016. Netflix has released a couple of teasers for Fuller House, and the second one gave us just the tiniest sliver of the remade theme song, with its signature "ba-ba-dow!" at the end.
Looks like what's old is new again, from Full House to "Everywhere You Look." Hopefully Jepsen's version will live up to Frederick's original — along with the show itself — when the series drops on Feb. 26. Keep your Netflix tabs open, people.
Image: Warner Bros. TV