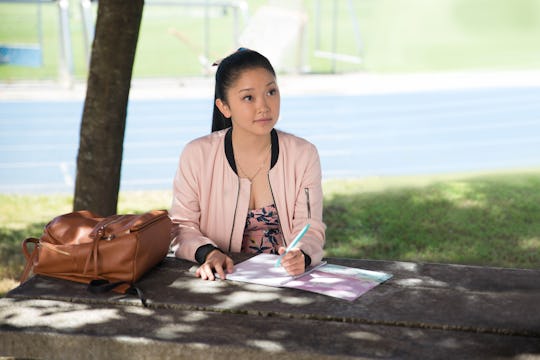 Masha_Weisberg/Netflix
'To All The Boys I've Loved Before' Is Only The Start Of The Story
To All The Boys I've Loved Before is a young adult romcom coming to Netflix on August 17 with a premise equal parts charming and anxiety-inducing: protagonist Lara Jean is into all things twee and sentimental, which includes penning love letters to her crushes but never sending them. Instead, she stores them in a hat box for safekeeping, but everything changes when the letters are somehow sent out. The movie is based on a novel of the same name, so who wrote To All The Boys I've Loved Before?
Jenny Han authored the novel in 2014, as well as the two sequels that followed: P.S. I Still Love You and Always and Forever, Lara Jean. If all goes well with the first adaptation, who knows? You could be settling in for a whole series of Netflix movies revolving around the romantic escapades of Lara Jean Song Covey. The world of the books quickly expanded and there ended up being a lot of material to mine from Lara Jean's secret letters being leaked, but the initial germ of the idea was very simple. On her Instagram account, Han shared some remembrances and keepsakes from the very beginning of her work on the Lara Jean trilogy.
First Han posted the email she sent to friend and fellow author Siobhan Vivian in 2010 about To All The Boys I've Loved Before, which was little more than a title at that point. Han wrote that she thought the title was cute, but still had to figure out what the book would be about. She mentioned something she'd done herself as a teenager: when she needed closure with a person, she would write them a long letter than contained everything felt and then put it away in a hat box. Sounds familiar, right? Though it doesn't look like Han ever had to deal with the horror of her letters being sent, it seems like the novel came from a very personal place. Later, Han even posted a picture of the hat box she used to use.
Han previously worked as a children's bookseller and children's librarian, per the bio on her website, but she always had plans to be a writer. In an interview with Publisher's Weekly, she explained that she began writing her first novel Shug while she was still in college, then went on to earn her MFA in Writing for Children at the New School. She has continued writing YA ever since. Her second book was Clara Lee and the Apple Pie Dream, followed by a trilogy of three books: The Summer I Turned Pretty, It's Not Summer Without You, and We'll Always Have Summer. She also co-authored another trilogy with Vivian called Burn for Burn.
When asked why she's stayed within the genre, Han told PW, "I think that teenaged life is so fertile. It's a time of firsts, and the first time is almost always the most interesting time, to me, anyway!" It was so surprisingly fertile that she managed to get three books out of a series that was only ever intended to be two: Lara Jean's story was supposed to conclude in the second book, but Han found she had more to say.
"I kept thinking about Lara Jean and what would happen next," Han said to PW. "There were things that couldn't fit in P.S. I Still Love You that could be explored in a third book." Han thought of Always and Forever, Lara Jean as a dessert — and obviously no meal would be complete without one.
Netflix's adaptation of To All The Boys I've Loved Before will introduce the characters to a whole new audience, and any fans it finds will be glad to know the story doesn't end there.