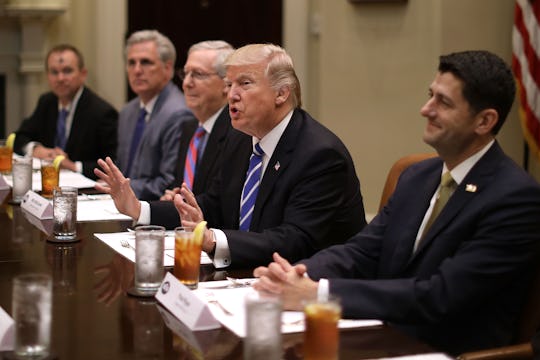 Chip Somodevilla/Getty Images News/Getty Images
The Team Behind Trump's Speech To Congress
On Tuesday evening, President Trump delivered his joint address to Congress — and the speech surprised the world, with many commenting on his dialed-back tone and message of optimism. It even garnered praise from speechwriters who had worked on State of the Union addresses in the past. But who actually wrote Trump's speech to Congress? Was it the president's own work, or was a speechwriter to thank for the much-praised address?
According to Vice President Mike Pence, the speech was all Trump, with a little help from his staff. "It was a great speech and a great night for America," Pence told MSNBC on Wednesday morning. He continued:
This was all him. But clearly, to know the president's leadership style, is he leads by asking questions — not just in the process of putting a speech together, but literally in leading an administration, the way he was so successful in business. And you know, many voices, suggestions about things that could be in the speech, but at the end of the day, he was literally… he was literally rewriting this speech on the afternoon before he gave it.
According to Politico, Trump was still reworking parts of his speech on the day of the address, surrounded by chief strategist Steve Bannon and senior advisor Stephen Miller. Other aids — such as Kellyanne Conway, Jared Kushner, Reince Priebus, and Sean Spicer — also stepped in to offer advice now and again.
A senior White House official reportedly told Politico that speechwriter Vince Haley had come up with the idea of crafting Trump's speech around the 250th anniversary of the Declaration of Independence. According to Politico, Bannon and Miller drafted the framework of the speech itself, although Trump was involved in editing and crafting parts of it and often called speechwriters with ideas throughout the entire process.
The hard work and repeated rehearsals apparently paid off. The New York Times called the president's joint address "the most presidential speech Mr. Trump has ever given," and CNN said the speech checked off "almost all the boxes of a traditional State of the Union style appearance." Many commented on the address' departure from Trump's usual persona.
The question the media is asking now, however, is whether the tone Trump struck in his address will be present in his policies and if it will seep into his day-to-day actions. The ultimate test, though, will likely be whether Trump can step away from his Twitter account.