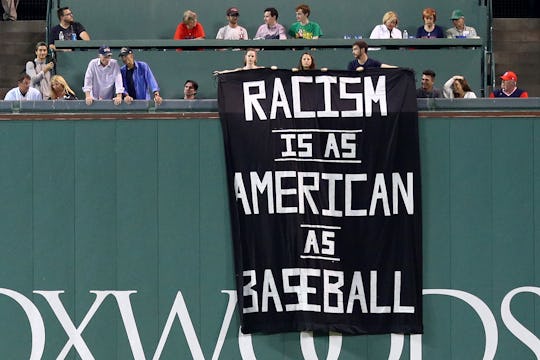 Maddie Meyer/Getty Images Sport/Getty Images
People Are Attacking The Fenway Park Racism Banner For The Wrong Reason
Wednesday night's game between the Boston Red Sox and the Oakland Athletics was briefly interrupted by a 60-second protest during the fourth inning, and it's causing a lot of confusion. Who's behind the Fenway Park racism banner, fans wondered, and what are they trying to say? The slogan on the giant banner, "Racism is as American as baseball," might seem straightforward to some people, but others were left scratching their heads, or were even offended by the message. Through several interviews with local outlets the following day, the protesters have attempted to clarify their position.
The people who made and hung the sign prefer to remain anonymous, but they made it clear that they're not affiliated with any particular group. They acknowledged being inspired by Black Lives Matter, according to Comcast SportsNet New England, but refuted the claim that they were affiliated with Boston Antifa, which is an alt-right troll account. The five people who participated in the event — three holding the banner and two documenting the scene — "come from various organizing groups in the Boston area ... that affiliate with racial justice causes," according to a participant who granted a phone interview to the sports network under the condition of anonymity.
It's against Fenway Park's policy for fans to hang signs of any kind, and the banner was only up for a moment before the group was ejected from the game. Red Sox president and CEO Sam Kennedy told local sports station WEEI that the protesters were "open and respectful" with the security team, and left without argument. There were no arrests, and the individuals were not banned from the park. Boston Mayor Marty Walsh told CBS Boston that he felt the banner bore a "positive message," but that the park was "the wrong place to put it, because you can't bring something in Fenway Park, they don't let you do that."
However, not everyone agreed with Walsh. Fans were heard booing the banner, and calling for the protesters to be arrested, and bewildered Twitter users reportedly questioned whether the sign was meant to be pro-racism, or perhaps even anti-baseball, according to the Boston Globe. "What they're trying to say is America is racist," one witness told the Globe. "We're not. Plain and simple. Sure, there are racist people here, but Boston being flagged with this racist tag... we don't need that." An opinion column in the Boston Herald even went so far as to claim that "you'd be hard pressed to find a white supremacist around here. Or anywhere," and characterized the protesters as "bullies" who have been brainwashed.
The fact that so many people misunderstood or disagreed with the banner actually validates its message. The creators said they were spurred, in part, by an incident in May when a Red Sox fan yelled a racial slur at Baltimore Orioles player Adam Jones, and threw a bag of peanuts at him. Jones was greeted with a standing ovation from Sox fans the next night, according to Sports Illustrated, but during that game, another fan used "a variant of the n-word" in casual conversation with a man who was there to celebrate his 6-year-old son's birthday, according to ESPN. That person was banned for life — a Fenway first — but it just goes to show that racism is alive and well, existing out in the open alongside more civilized people.
The reason that person felt completely comfortable displaying such hatred in front of a complete stranger (and his young child) is that until that moment, bigotry had gone completely unchecked. Denying that racism exists is not the same thing as condemning it; in fact, it has the opposite effect. If we stand idle while our friends, family, and neighbors use racial slurs, or commit microaggressions, we're condoning their behavior. It sends a message to them that such rhetoric is normal and acceptable. If you're not racist, great! That's the goal! But it's time to act the part. When a bystander stays silent, they're anything but innocent.