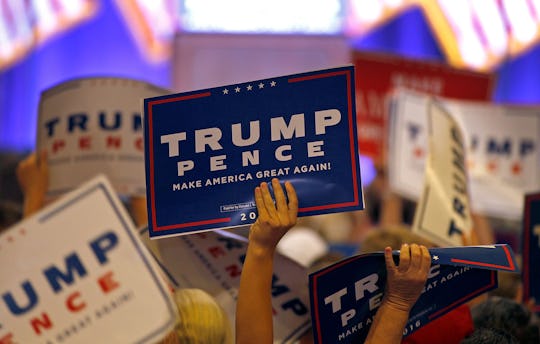 Ralph Freso/Getty Images News/Getty Images
Who's Behind The GOP Firebombing? Donald Trump Has Blamed 'Animals' & Democrats
A North Carolina Republican Party office was firebombed on Saturday night, and, according to The New York Times, graffiti scrawled on an opposing building read "Nazi Republicans, leave town or else." After a rather contentious election season, both political parties have garnered their fair share of enemies — but the destruction seen in Hillsborough, North Carolina on Saturday night was a step or three too far. The obvious question on people's minds, of course, is who is behind the GOP firebombing?
Unfortunately, there's no definitive answer to that question yet. According to a Hillsborough government press release, the GOP office was ignited after a bottle filled with a flammable substance was thrown through one of the windows at the Shops at Daniel Boone building, where the office was located. Hillsborough mayor Tom Stevens said in a statement, "Our law enforcement officials are responding quickly and thoroughly to investigate this reprehensible act and prosecute the perpetrators." Alongside the Bureau of Alcohol, Tobacco, Firearms and Explosives, Hillsborough police were looking into the incident. Luckily, no one was harmed during the attack.
Dallas Woodhouse, executive director of the North Carolina GOP, told The Charlotte Observer on Sunday, "Whether you are Republican, Democrat or Independent, all Americans should be outraged by this hate-filled and violent attack against our democracy." He called the event "political terrorism," but refrained from pointing fingers at anyone in particular.
Democrats on both the local and national level weighed in to condemn the attack. The North Carolina Democratic Party spoke out against the violence, and Democratic presidential nominee Hillary Clinton tweeted, "The attack on the Orange County HQ NCGOP office is horrific and unacceptable. Very grateful that everyone is safe." The North Carolina RNC office responded with a very polite note of thanks, in what was likely the most polite interaction between the two parties during this entire election season.
One man, however, was fairly certain of who was behind the attack, and he had a theory as to why they carried it out, as well. Republican candidate Donald Trump tweeted out on Sunday night:
Animals representing Hillary Clinton and Dems in North Carolina just firebombed our office in Orange County because we are winning.
(An interesting theory, especially considering that a RealClearPolitics national polling average shows Clinton leading Trump by 5.5 points.)
There's no way of knowing at the moment who carried out the attack on the GOP office in North Carolina, but it's reassuring to see politicians from both sides come together to denounce the violence. Now, all the public can do is wait and see what the Hillsborough police uncover during their investigation — and remind people that elections should be an opportunity to become more democratic, rather than moving away from it into acts of violence.