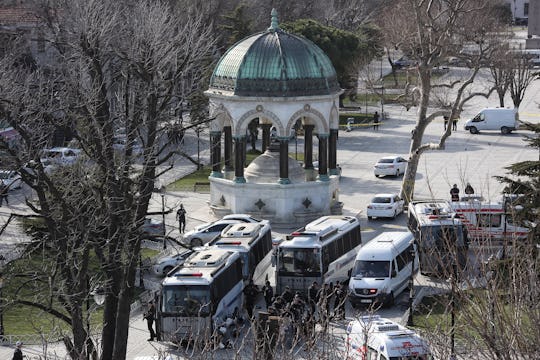 Who's Behind The Istanbul Explosion? Turkish Officials Say Suicide Bomber Has "Syrian Roots"
Turkish officials are zeroing in on who's behind the deadly explosion in Istanbul that left at least 10 people dead and 15 wounded on Tuesday. Following a high-level security briefing, Turkey's deputy prime minister told reporters that a 28-year old Syrian national is believed to be behind the explosion, according to Turkish newspaper Today's Zaman. Deputy Prime Minister Numan Kurtulmuş said that officials were able to identify the suspected suicide bomber using remains found at the blast site.
Update: Turkish officials said Tuesday that the man behind the suicide bombing is believed to be an ISIS operative from Syria, according to the Daily Mail. The Turkish government and the German government also confirmed that all 10 of the people killed were German tourists.
So far, no terrorist groups have claimed responsibility for the terror attack in Istanbul. However, the latest findings confirmed an early statement made by Turkish President Recep Tayyip Erdogan in the moments following the deadly attack. In remarks before a gathering of Turkish ambassadors Tuesday, the Turkish president condemned the terror incident in Istanbul, calling it "an attack by a suicide bomber with Syrian origin."
The explosion took place just after 10 a.m. local time, near popular Blue Mosque and Hagia Sophia, in the heart of the city's historic Sultanhament district. The identities of the victims have not yet been disclosed, though the deputy prime minister confirmed that most of those killed in the blast were foreign nationals. According to the Associated Press, among those wounded are six Germans, one Peruvian, and one Norwegian victim.
Turkey has served as a key U.S. ally against the militant groups gathering along its southern borders in Syria and Iraq. And in a statement made to press early Tuesday, the Turkish president said the country's anti-terrorist position was not going to change, according to The Guardian:
We don't make any difference between the names or abbreviations (of terror groups). The first target of all the terror groups active in this region is Turkey. Because Turkey fights them all with the same determination.
Though Erdogan didn't specify which terrorist organization his government believed was behind the attack, Turkey has been dealing with multiple security threats from Kurdish and other militant Islamic groups, CNN reported.
A peaceful demonstration in Ankara last October turned deadly when two explosions left more than 100 people dead and 240 injured. The demonstrators had been calling for an end to conflict between the Kurdistan Workers Party and the Turkish government.
According to Reuters, Islamist, leftist and Kurdish militants battling along the southeast border of Turkey have all carried out attacks in the country in the past.
Images: Getty Images News