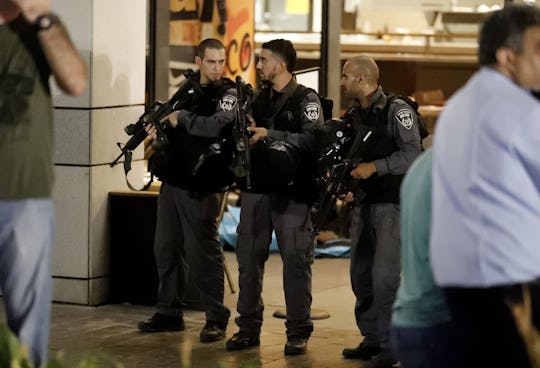 JACK GUEZ/AFP/Getty Images
Who's Behind The Tel Aviv Shooting? The Attack Left Several Dead
Four people are dead after two gunmen opened fire at a popular outdoor shopping and restaurant district in central Tel Aviv, Israel on Wednesday. Israeli police have condemned the attack as an act of terror. At least nine more people were wounded and have been taken to the hospital after the deadly shooting. Officials are learning more about the two gunmen behind the Tel Aviv shooting, both of whom were apprehended by police.
The two terrorist gunmen reportedly posed as patrons in a cafe in the popular Sarona Market, a shopping complex with food hall, retail, and common space, Israeli police spokesman Micky Rosenfeld told CNN. CNN's Elizabeth Cohen described the area as hip and trendy, a place that is popular with tourists and locals alike. Sarona Market is also, incidentally, close to Israel's military headquarters in Tel Aviv.
The shooting occurred at about 9 p.m. local time, according to reports. One witness, a manager of Sarona café, said the two gunmen had sat down and ordered food at his restaurant before taking out their weapons from their bags and shooting at other patrons. Yusuf Jabarin, a bartender at that same café, told an Israeli television station the gunmen were dressed up in black suits "like lawyers."
Jabarin, an Arab, said when he first heard the gunshots he ran in fear but quickly turned back to the restaurant to try and help the injured patrons. Surveillance footage from a café in the complex showed chaos erupt with panicked customers running to escape.
Ofer Newman, who witnessed the attacks, described them in an interview with Army Radio, saying he heard four gunshots ringing out making people scatter everywhere followed by another round of fire. "In between the two bursts," he said, "police and security forces started to run around in search of the source of fire."
Avraham Liber, a Jerusalem-native, was in Tel Aviv visiting friends and having ice cream in the café when the shooting occurred. "[The gunman] got up, he had a rifle in his hand and he was just shooting point blank at people sitting down," he said. "I didn't hear him say anything."
Police officers quickly responded to the scene apprehending both suspects. One was reportedly gravely wounded and is being treated in a hospital while the other remains in custody, USA Today reported.
The two gunmen were identified by Israeli police as Palestinian cousins from Yatta, a town in the Isreali-occupied West Bank. They are both reportedly in their 20s.
Israeli Prime Minister Benjamin Netanyahu called the shootings "a savage crime, murder in the heart of Tel Aviv."
"We will take the necessary steps to attack the attackers and defend those who need to be defended," he promised in a press conference on Wednesday.
The U.S. State Department extended its sincere condolences to the victims' families in a statement issued Wednesday. "The United States condemns today's horrific terrorist attack in Tel Aviv in the strongest possible terms," State Department spokesperson Mark Toner said. "These cowardly attacks against innocent civilians can never be justified. We are in touch with Israeli authorities to express our support and concern."
This episode is among the deadliest in Tel Aviv since a wave of Palestinian attacks began hitting Jerusalem and the West Bank in October. The violence has since spread to cities all over Israel, including this seaside city. More than two dozen Israelis and two American tourists were killed in those attacks, which have mostly consisted of stabbings. In March, an American combat veteran was killed after being stabbed by a Palestinian assailant going on a violent rampage near Tel Aviv.