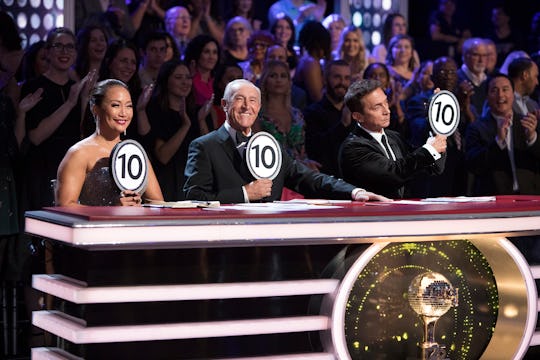 Adam Rose/ABC
'Dancing With The Stars' Will Look *Completely* Different This Season
Every season of Dancing with the Stars features a few athletes, and often some beloved Olympians. But since the upcoming season of the show will feature athletes only, you're probably wondering specifically who's competing in Dancing with the Stars Season 26. The official competitors haven't been announced yet, but that doesn't mean that I haven't already started speculating wildly about who it will be. More than one Olympian has already stolen my heart following the PyeongChang games, and I am eager to see more.
This season will only run for four short weeks instead of the usual 10, which means the competitors will need to use every ounce of their considerable athletic skill to skate to the top (see what I did there?). Back in November 2017 when Season 25 ended, host Tom Bergeron announced that the season would be an all-athletes edition. He didn't specify that it would be an all-Olympians edition, but seeing as the season comes right on the heels of the Winter Olympics, it's the potential Olympic competitors who are garnering the most early excitement. These athletes are also pretty much the only athletes alive who's names I know because professional sports are utterly mystifying to me. What is an offensive line? What is a point guard? What is a pig skin? Help.
I feel fairly sure this season of Dancing with the Stars will include at least one or two athletes who were not at the Olympics — maybe one of those guys who won that big superball game in February — but I'm not going to pretend to know their names and will not root for them until they win me over with charm. That being said there are plenty of Olympians that I am looking forward to dominating the ballroom. And I think we all know right now that the Mirror Ball is going to a figure skater. That's called logic.
Like most of America, I fell deeply in love with Adam Rippon last February, and if he is not going to bring his signature quips and flairs to the ballroom I may just boycott the whole season (I won't). Rippon, the 28-year-old openly gay figure skater, captured everyone's heart with his dynamite social media presence, his very appropriate idolization of Reese Witherspoon, and his unapologetic pride in his fantastic eyebrows. He also happens to be an incredible athlete who will likely destroy all of his competition on the dance floor.
Another figure skater I want to see take over the ballroom is Mirai Nagasu, who famously told reporters after her free skate that she was smiling through her (apparently) disappointing program because she knew that she just nailed her Dancing with the Stars audition. That's the kind of dedication and outspokenness that this competition needs. Here for it. I also want to see skier Chloe Kim to see if she tweets during her dance, or Hilary Knight, a member of the women's Olympic hockey team who won gold against arch-nemesis Canada, who calls Sheryl Sandberg her dream mentor.
In all the excitement about Rippon, the media almost forgot about the other openly gay athlete at the Olympics who is also openly cheeky. Skier Gus Kenworthy famously declined to meet with Mike Pence (who has been known to support gay-conversion therapy) and once tweeted, "Broke my thumb yesterday in practice. It won't stop me from competing (obvi) but it does prevent me from shaking Pence's hand so... Silver linings! Will be giving my teammates (and literally everyone else) an enthusiastic 'thumbs up!' of encouragement the rest of the trip."
Could we skip the dancing and just have a shade-off instead? Now that would be an extremely stiff competition.
Check out Romper's new video series, Romper's Doula Diaries:
Watch full episodes of Romper's Doula Diaries on Facebook Watch.