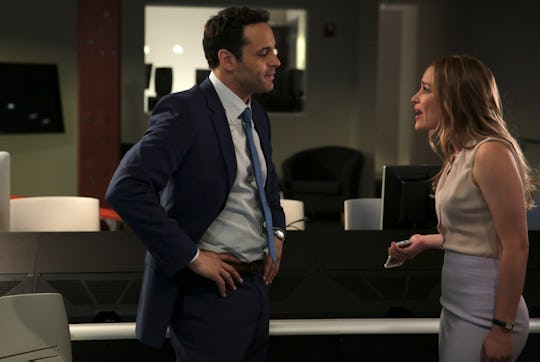 ABC
Who's Helping Julia On 'Notorious'? Someone Is Sending Her Anonymous Tips
As the executive producer of the number one cable news show, Julia George is always looking for the latest scoop, which is why she's partnered up with Jake Gregorian, a lawyer with high profile clients. However, in a world where everyone's trying to control the narrative Julia and Jake's partnership is based on a very fragile trust that can easily be broken and it seems someone is trying to get in Julia's ear. During the series premiere of Notorious someone helps Julia by sending her anonymous tips throughout the episode but who is the anonymous tipster and why are they helping Julia?
Whoever's sending the tips is clearly close to the Keaton's...or they're at least stalking the Keaton's. So far the tipster has texted Julia a picture of Sarah Keaton's dead body in her house and then followed that up by sending her pictures in the mail of Sarah's face beaten and bruised, a picture of Oscar Keaton having an affair, and a final picture of Sarah and Jake in bed together, which puts Julia in a really awkward position. Julia and Jake have a deal: don't lie to each other. However, does not telling the whole truth count as a lie? As far as Julia knew Jake and Sarah were just friends and Sarah was just the wife of one of Jake's clients but now Julia knows the truth. The question is what will she do with it and how did someone get those photos?
It's possible that Oscar's longtime friend and tech business partner, Levi Young, is the tipster. He's obviously close to the Keaton's and Julia started receiving messages after Jake used Levi to bring reasonable doubt into the case against Oscar. Maybe Levi is tired of being Oscar's second in command and wants the world to know the truth about the Keaton's. He would have access to the house to take those incriminating photos and he definitely has motive, plus he promptly disappeared from the episode after his TV interview. Also, since he works in tech he'd definitely know how to send texts anonymously.
It'll be interesting to see if Levi shows up in the next episode and how he acts around Oscar and Julia. If it's not Levi that's sending the tips then it's possible we haven't met the tipster yet and they'll be revealed later on. For now though Julia has the ammo to crack a really big story on her show but will she throw Jake under the bus to do so? We'll just have to wait and see how this all plays out.