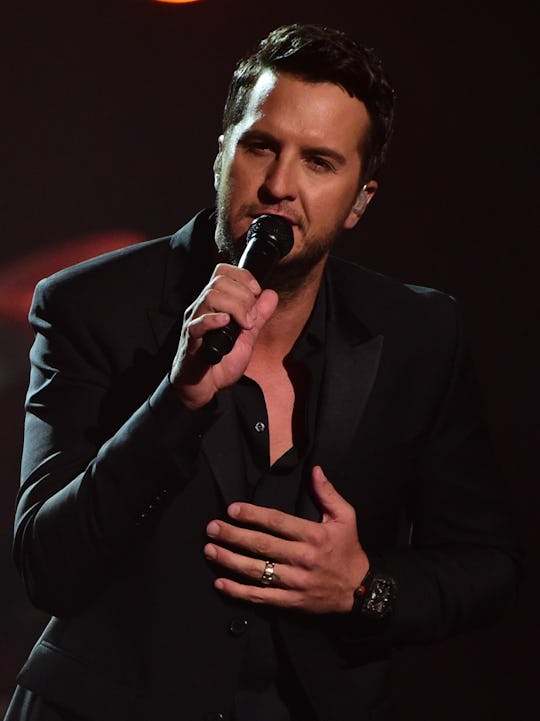 ROBYN BECK/AFP/Getty Images
Who's Hosting The Academy Of Country Music Awards? Luke Bryan Has A New Co-Host
Sunday's is one of country's music's biggest nights but like any awards show, it's about who's hosting the Academy of Country Music Awards that usually makes or breaks the show. Fans shouldn't worry though, Luke Bryan and Dierks Bentley are co-hosting Sunday's awards on CBS and the duo shouldn't disappoint. This will be Bryan's fourth time hosting the ACM Awards and Dierks' first time. It's a good thing that Bryan and Dierks are also fishing and hunting buddies — that means there's more than enough bromance to keep things interesting all night. In a statement, Bryan said it was natural to think of Dierks first. "When we found ourselves searching for a new co-host I didn't have to look much further than my own circle of friends," the singer said. He added, "we have a lot of fun together and I know the fans will be in for something special."
The Academy announced the co-hosts in a Facebook video, where Bryan is searching for a co-host, who "loves country music," and who Bryan is "a little better looking than, like last year," when Blake Shelton shared the honor with him. Get it? Bentley added that he's "excited" to "join his friend" for hosting duties at this year's awards show, according to People magazine.
Luke Bryan is also nominated for the Entertainer of the Year award and will be kicking off the show, at MGM Grand Garden Arena in Las Vegas, with a live performance of his hit single, "Huntin', Fishin' and Lovin' Every Day." According to Taste of Country, the song perfectly sums up the "country lifestyle" so it seems like an apt choice to kick off the celebration of the country music scene. Bentley won the Entertainer of the Year award last year, but he's up against some other big stars, like Miranda Lambert, Eric Church, Garth Brooks and Jason Aldean this year. He told The Boot, it's always an honor to be included in the category:
Anytime you get the Entertainer nomination, it is a huge deal, and you know you are always going to be in there with the best of the best, and certainly all of the other nominees are that. It is always an exciting moment of the night, the big Entertainer portion of the show is pretty crazy stuff.
With pals Bentley and Bryan as hosts, it's bound to be a crazy night all around for country music fans. And everyone should be expecting more digs at Blake Shelton, who's co-hosted the show since 2011. Now and again it's worth changing things up, and Blake Shelton can totally take the teasing.