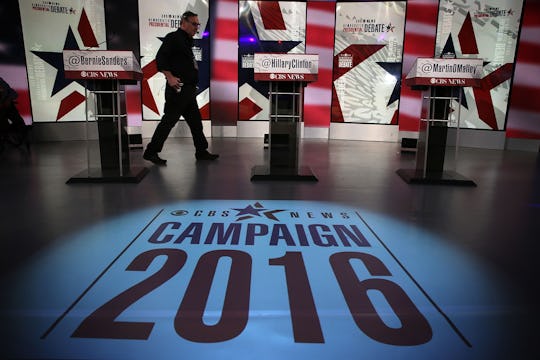 Alex Wong/Getty Images
Who's Moderating CBS' Democratic Debate? A Few Of These Names Might Be New To You
While all eyes and ears remain fixed on the situation in Paris, it might have been easy to forget that tonight, the next Democratic debate airs on CBS. But it's still happening, and will be televised live at 9 p.m. EST from Drake University in Des Moines, Iowa. This time, only Hillary Clinton, Bernie Sanders and Martin O'Malley will be answering questions, since the other candidates — Jim Webb, Lincoln Chaffee, and Lawrence Lessig — have already quit the race. But as for who's moderating the Democratic debate? Chances are, there might be a few whose names you haven't heard yet.
John Dickerson, Nancy Cordes, Kevin Cooner, and Kathie Obradovich will all be moderating the debate stage tonight, according to CBS. But unlike the network previously planned, yesterday's terrorist attacks in Paris have led producers to shift the debate's focus away from the economy and more towards foreign policy. And that's a good thing — after all, at a time when the nation, and the world, is even more acutely aware of the threat ISIS and other terrorist cells pose, putting tough questions to our potential future leaders only helps us better understand how they'd handle national security.
So what do we know about the people who will be asking questions tonight? Here's a quick summary of the CBS democratic moderators who will be leading the discussions.
John Dickerson
Adweek reports that John Dickerson will be the principal moderator during tonight's Democratic debate. And in case that name doesn't ring a bell, Dickerson is the host of "Face the Nation," the political director of CBS News, a Slate columnist, and a former correspondent at Time. (So yea, he's got quite the resume.) The 47-year-old is from Washington, D.C., where he lives with his wife and two kids, and boasts an impressive 1.36 million Twitter followers. Also, the Democratic debate is just one of two debates he'll be moderating — the other is a GOP debate that will take place on February 13, 2016.
Nancy Cordes
Nancy Cordes is a CBS News congressional correspondent who's covered multiple candidates on the campaign trail including Hillary Clinton and Donald Trump. Originally from Hawaii, Cordes is a married mom of two kids who is now based in Washington D.C. And how's this for a little factoid: In 2014, Cordes was named one of the Hill's 50 Most Beautiful, and according to Vox, she likes Taylor Swift. (So there's that.)
Kevin Cooney
Kevin Cooney has been the anchor at KCCI Des Moines for 33 years, but he announced in May that he's going to retire at the end of this month. Some highlights during his career include covering the inaugurations of President Bill Clinton and President George W. Bush and winning the prestigious Jack Shelley Award from the Iowa Broadcast News Association for his outstanding contribution to broadcast journalism in Iowa. He's married to fellow KCCI journalist Mollie Cooney, and together they have three kids.
Kathie Obradovich
Kathie Obradovich is the political columnist for the Des Moines Register. She graduated from Iowa State in 1987 with a bachelor's in Journalism and Mass Communication. She's been covering Iowa government and politics for over 20 years. She and her husband Jim live in Des Moines.
According to Politico, Dickerson and his team met with each of the moderators for more than an hour to discuss the major issues at play in the race while he prepped; so it seems like they're a group that's intensely preparing to ask some tough questions. Still, now that yesterday's events in Paris have significantly changed the national conversation as well as the debate conversation, the questions tonight will surely take on an even greater importance.
Image: Alex Wong/Getty Images